Go to the start of Gail's Ecuador trip
Go to Al's arrival in Guayaquil
Go to start of Galápagos visit
Go to end of Galápagos visit
---
Nearly all the animals and birds we saw on Española and the other islands ignored our presence.
Blue-footed boobies engaged in a courtship dance
Blue-footed booby and its chick

---


Albatross soaring along the edge of the cliff

---


Albatrosses performing a courtship dance
Click here to see a short video Gail made of the albatrosses' performance. Use your back arrow when the movie is done.
---
Here is a Galápagos hawk about to fly.
---
Waves forced a spray of water out of a hole below the cliff
where the albatrosses and boobies nested
Some of the Fragata's passengers watching birds nesting and soaring
---
On our way back to the Fragata, we saw a sea lion jumping out of the water, apparently just for the fun of it.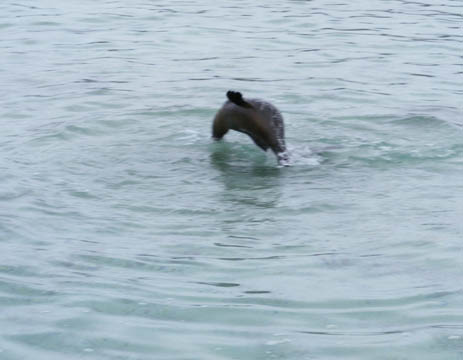 ---
We also saw marine iguanas swimming out to sea.
After lunch on July 4, we snorkled off the beach at Gardner Bay. I got cold and went back to shore early. Others of us saw small white-tipped sharks, rays, and even a swimming sea turtle.
---
Wednesday night we cruised from Española to Floreana. At night the sky was clear and dark. We could see many stars. The Milky Way was prominent. Jupiter shown brightly overhead in Scorpio. To the south we could see the Southern Cross and Alpha Centauri, the nearest bright star to our Sun. Terrific! I didn't get any pictures, but you can see the kite-shaped Southern Cross in the middle of this photo and Alpha Centauri on the left side.
Storm petrels almost dancing upon the sea
---
Flamingos in a lagoon at Punta Cormorãn on Floreana.
---
Back to the top of this page
Go to the start of Gail's Ecuador trip
Go to Al's arrival in Guayaquil
Go to start of Galápagos visit
Go to middle of Galápagos visit
Go to end of Galápagos visit
Responsible: Albert Holm
Updated: 21 Jan 2019