---
Go to the start of Gail's Ecuador trip
Go to start of Galápagos visit
Go to middle of Galápagos visit
Go to end of Galápagos visit
---
When I flew in on June 29, we stayed at the Hotel San Rafael Plaza. Yellow taxi cabs are very common on the streets. If the driver sees a North American on the sidewalk, he usually beeps his horn to indicate that he is available for hire. Guayaquil drivers use their horns a lot.
---
Before we left for the Galápagos, we visited some of the tourist sites in Guayaquil. Here we are in the Parque Histórico Guayaquil.
---
In one part of the Parque Histórico Guayaquil, they've recreated a city block that would have been on the Malecón in the early years of the 20th century. This represents a wealthy family's house. The inset shows the ornate ceiling in the dining area upstairs.
---
In another part of the Parque Histórico Guayaquil, they show how the rural farm workers would have lived. This is a house made of bamboo.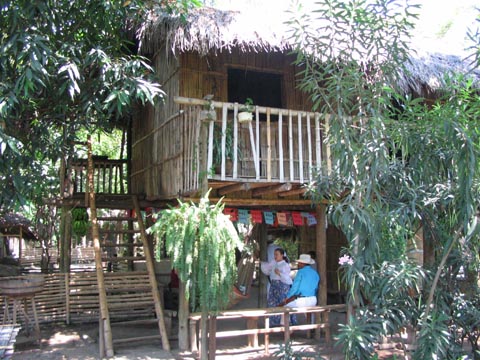 ---
This view shows some of the southern part of Malecón 2000 in the early evening. Malecón means "dike", holding the river out. It is part amusement park and part shopping mall. It has museums and theaters and many food courts.
---
Most shops in Guayaquil are open to the street in front, like the shoe store next to this jewelry shop. An overhead metal door is brought down and padlocked to a bolt in the sidewalk to close the store.
---
One morning we went to Cerro Blanco Nature Preserve about 15 kilometers out of town. We were the only visitors there, and we saw glimpses of a monkey, a rare Quayaquil woodpecker (as large as a piliated woodpecker), and other birds. Most were too fast for us to photograph, but this tarantula posed for us. It was about as big as my hand.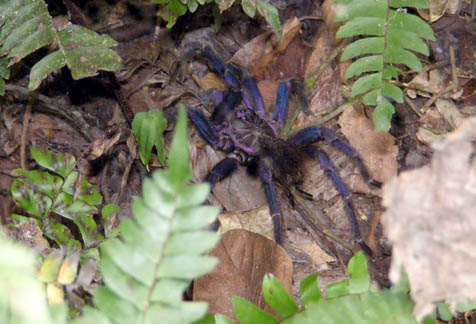 ---
---
Back to the top of this page
Go to the start of Gail's Ecuador trip
Go to start of Galápagos visit
Go to middle of Galápagos visit
Go to end of Galápagos visit