Go to the start of Gail's Ecuador trip
Go to Al's arrival in Guayaquil
Go to start of Galápagos visit
Go to middle of Galápagos visit
Go to end of Galápagos visit
---
When we first arrived at Puerto Ayora shortly after noon, newly arrived passengers for several boats were milling around on the dock, looking for their destinations.
---
Motor boats (called pangas) took us out to La Fragata, our home for the week, where we were quickly treated to a filling lunch. We met the other passengers and found eight of us were from the U.S., four from Germany, three from Canada, and one from South Africa. Six of us were in our 50s or 60s, nine in their 20s, and one teenager.
---
Our first visit that afternoon was to the Darwin Research Station back in Puetro Ayora where we met our only giant tortoises of the voyage.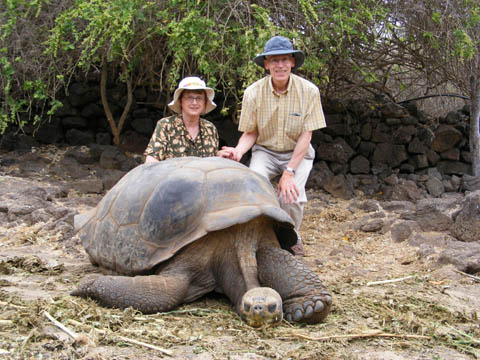 ---
On Tuesday, our first experience was a bus trip halfway across Santa Cruz Island to two large pits formed when rocks collapsed into giant bubbles formed in lava that flowed under the surface. Here is Markus at the edge of the larger pit.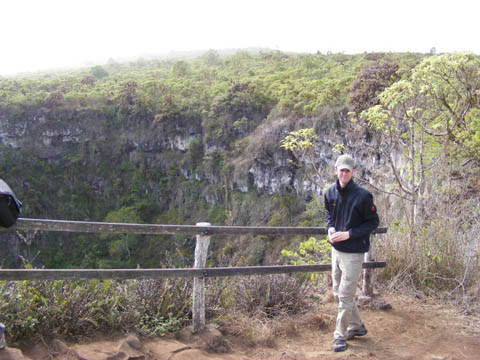 ---
A vermilion flycatcher near the second lava pit
---
A Galápagos finch perched in a tree near the pits on Santa Cruz Island. The several species of finches in the Galápagos provide an important illustration of the power of natural selection. According to The Beak of the Finch by Jonathan Weiner even Darwin did not recognize this fully.
---
We cruised from Santa Cruz to Santa Fé Island after lunch on Tuesday. On the voyage to Santa Fé two frigatebirds used the air flow from the boat's motion to soar along with us. Here is one of them.
---
At Santa Fé we went snorkeling for the first time. My camera is not waterproof and I did not get any photos. Some other passengers had brought disposable underwater cameras and I regreted not doing so. I did swim with sea lions, with schools of yellow-tailed surgeon fish, and with spctacular purple, orange and white king angel fish, among others. I could not see very well because I could not wear my glasses and because my face plate fogged up quickly. I wore a wetsuit, but got very cold in the water. Someone said the water temperature was 19 C (about 66 F). When I got back to the Fragata after an hour in the water, I was shaking so badly I could not hold the hot chocolate they gave us.
Tuesday night we cruised from Santa Fé to Española Isle. The waves were a little rough. The next morning we were greeted by colorful Sally Lightfoot crabs, blue-footed boobies, marine iguanas, and sea lions on Española.
Adult Sally Lightfoot crab at Suarez Point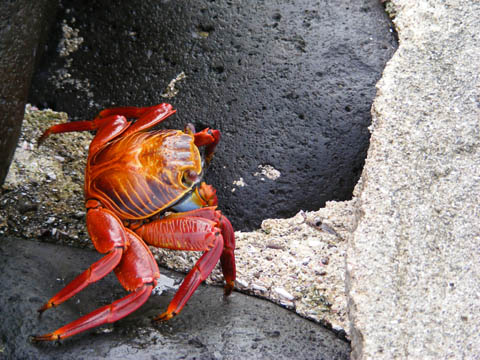 ---
On the shore also there were many groups of marine iguanas. Both sea lions and the iguanas tended to lie upon or next to one another to preserve heat. Here is a stack of marine iguanas.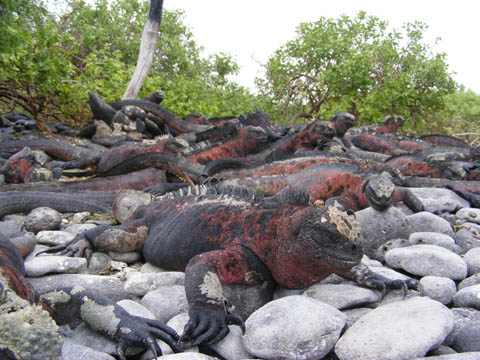 ---
Sea lions dozing on the beach with some of the Fragata's passengers in the background.
---
Sea lion with nursing pup
---
More sea lions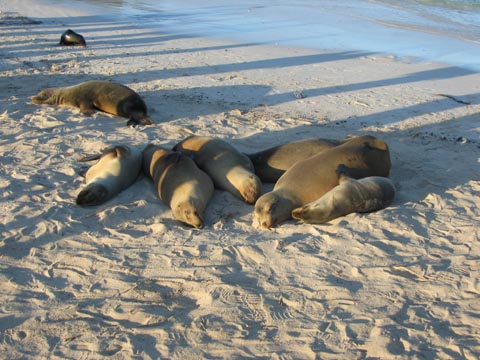 ---
Back to the top of this page
Go to the start of Gail's Ecuador trip
Go to Al's arrival in Guayaquil
Go to start of Galápagos visit
Go to middle of Galápagos visit
Go to end of Galápagos visit