Name: Huevos Rancheros
Ingredients:
2 tomatoes
1/4 cup fresh cilantro leaves, plus more for garnish
1/4 cup diced yellow onion
1 large clove garlic, peeled and smashed
4 1/2 oz can of chopped green chilis
1/2 teaspoon salt substitute
5 ounces cured chorizo, diced
Vegetable oil
Four 6-inch corn tortillas
16-ounce can refried beans
4 large eggs
1 avocado, pitted, peeled and sliced
3/4 cup (3 ounces) crumbled queso fresco or grated Monterey Jack, for serving
Yogurt, or sour cream as an alternative
Instructions:
Chop the tomatoes, onion, cilantro, garlic, chilis, and 1/2 teaspoon salt.
Simmer the mixture in a small skillet over medium heat until slightly thickened, about 10 minutes.
Cover and keep warm over low heat.
In a large skillet over medium-high heat, cook the chorizo until browned.
Add to the sauce and cover again.
Add 1 tablespoon vegetable oil to the fat in the large skillet.
Cook each tortilla in the skillet until light golden but not crisp, about 30 seconds.
Flip and cook for 30 seconds more, then transfer to dinner plate.
Cook the remaining tortillas, adding a bit more oil to the pan, if necessary.
Heat the refried beans (if using) in a large skillet.
Spread the beans on the tortillas.
Add another tablespoon of oil to the skillet.
Working in batches, crack the eggs into the pan.
Cook until the bottoms are set and the edges golden, 1 to 2 minutes.
Turn the heat to medium-low, cover, and cook until set, about 1 minute more.
Place one egg on each tortilla and spoon the warm sauce over the eggs.
Sprinkle with the cheese and additional cilantro.
Top with a dollop of yogurt, or sour cream.
Put avocado slices alongside the tortilla.
Yield: Serves 4

Comments: 9/15/2018 - This took about an hour and a quarter. It tasted good. I used two sausages from a package of five Natures Promises Chorizo Chicken Sausages.
3/5/2022 - It took a long time, so long that Gail had to go to her 6:30 meeting before eating and we ate in shifts. I used plum tomatoes, Monterey Jack, and omitted the yogurt and sour cream. Because Gail was having stomach difficulties, I had two Field Roast Smoked Apple & Sage plant-based sausages for her and one Spicy Argentine Smoked Chorizo for me. I had to separate the sauce into two halves with the different sausages. I served the huevos with Roasted Asparagus. Gail thought that one huevos would have been sufficient.

Inspired by https://www.foodnetwork.com/recipes/jamies-huevos-rancheros-recipe-1921736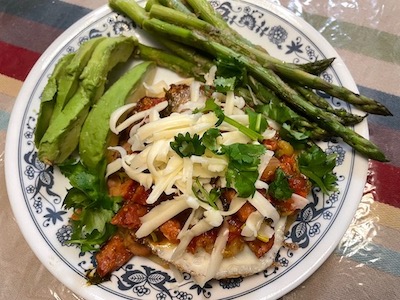 ---