Name: Curried Tofu with Rice
Ingredients:
1 package (12.3 ounces) extra-firm tofu, drained and cubed
1 teaspoon seasoned salt
1 tablespoon canola oil
1 small onion, chopped
3 garlic cloves, minced
½ cup light coconut milk
¼ cup minced fresh cilantro
1 teaspoon curry powder
¼ teaspoon salt
¼ teaspoon pepper
Instructions:
Sprinkle tofu with seasoned salt.
In a large nonstick skillet coated with cooking spray, sauté tofu in oil until lightly browned.
Remove and keep warm.
In the same skillet, sauté onion and garlic for 1-2 minutes or until crisp-tender.
Stir in the coconut milk, cilantro, curry, salt and pepper.
Bring to a boil.
Reduce heat, and simmer, uncovered, for 4-5 minutes or until sauce is slightly thickened.
Stir in tofu and heat through.
Serve with 2 cups, cooked brown rice.
Yield: 4 servings

Comments: 5/13/2013 - Substituted fake salt for the seasoned salt and cilantro leaves for the fresh cilantro. Omitted the salt and pepper. The flavor was very mild.
8/7/2017 - It was more flavorful this time. In place of seasoned salt, I used 2 teaspoons of Mrs. Dash Garlic & Herb seasoning and 1 teaspoon of salt substitute. I used 2 teaspoons of curry powder and one of black pepper. I served it on white rice with store-bought naan and with Roasted Green Beans with Mushrooms, Balsamic and Parmesan.
5/16/2021 - I used 2 teaspoons of Mrs. Dash Table Blend and 1 teaspoon of salt substitute on the tofu. I used a medium onion, 1 teaspoon of garlic powder, 2 teaspoons of cilantro leaves, 3 teaspoons curry powder, 1/2 teaspoons of salt, and 1/2 teaspoons of black pepper.
6/26/2023 - I Used Mrs. Dash Italian (!) Medley , but forgot to sprinkle it before sautéing the tofu. At range setting 7, the tofu never browned. I used a 1/2 cup of coconut milk with water to make the rice. Served with Stir-fry Broccoli.

Source: http://www.tasteofhome.com/Recipes/Curried-Tofu-with-Rice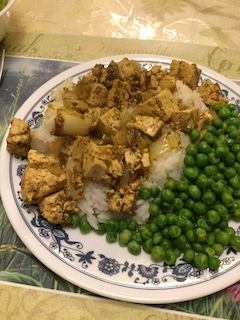 ---