Name: Vegetarian Moroccan Lentil Soup
Ingredients:
1 red or white potato, scrubbed and diced
2 garlic cloves, minced
1 medium onion, chopped
2 stalks of celery, chopped
2 carrots, peeled and chopped (or 12 baby carrots, chopped)
1/4 cup extra virgin olive oil
1 tsp sea salt
1 tsp black pepper
2 tsp turmeric
2 tsp ground cumin
2 tsp ground ginger
2 tsp smoked paprika
1 tsp ground cinnamon
1 cup green or brown lentils, picked and rinsed
1 cup red lentils, picked and rinsed
4 cups vegetable broth (1 large carton)
1 can (14 oz.) diced tomatoes (optional)
2 cups water (or more to reach desired consistency)
1/4 cup tomato paste
1 cup almond or full fat coconut milk (or milk of your choice)
1 tbsp fresh lemon juice
3 cups fresh baby spinach
yogurt, fresh parsley, cracked pepper, and jalapeno slices for garnishing (optional)
Instructions:
Dice potato by hand and mince garlic by hand or in a food processor.
Place onions, celery, and carrots in a food processor and pulse until chopped to desired consistency.
Heat the oil in a large stockpot or dutch oven.
Add all the chopped vegetables and saute for about 5 minutes until everything softens slightly.
Season with salt, pepper and the spices and cook for about 2 minutes.
Add lentils and sauté 1 to 2 minutes.
Add the broth, water and tomato paste. Stir to combine and until the tomato paste has dissolved.
Add additional water if desired.
Bring the soup to a boil, cover and reduce to simmer for 30 minutes or until lentils and vegetables are tender.
Remove from heat and stir in almond milk, lemon juice, and spinach, and stir until the spinach has wilted.
Serve immediately and top with your desired garnishes.
Yield: Maybe 3 full servings the first evening

Comments: 3/20/2022 - I cooked the along with UUCC's Vegetarian Cooking Show. I only had brown lentils. I used a medium Russet potato, chicken broth, the diced tomatoes, and regular 2% milk. I added an extra cup of water 5 minutes before the end of the simmering phase. Cooking with the spices and lentils continued considerably longer than in the recipe while the leader was explaining.

Source: Adapted by Andrea from: https://www.halfplanetpreserve.com/recipes/anti-inflammatory-detox-moroccan-high-protein-soup/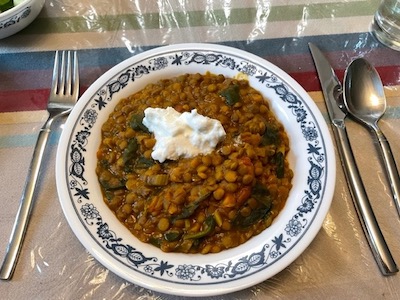 ---