Name: Roasted Garlic-Potato Soup
Ingredients:
2 yellow potatoes, unpeeled and cut into cubes (about 2 lbs)
3 tablespoons butter
1/2 teaspoon salt substitute
2 cups fat-free milk
3 teaspoons garlic powder
1 cup shredded reduced-fat sharp Cheddar cheese
2 sliced green onions
1/4 teaspoon freshly ground pepper
Instructions:
Boil potatoes until soft to a fork (maybe 20 minutes, starting with cold water)
Drain and mash (Best done in the saucepan to reduce splatters)
Add butter, salt, and milk
Stir with a fork or whisk until well blended.
Add 3/4 cup cheese, stirring until the cheese melts.
Spoon into bowls.
Spread evenly with remaining 1/4 cup cheese, green onions, and pepper
Yield: Four servings

Comments: This recipe originally was originally based on instant roasted garlic mashed potatoes. You can find that version of the recipe here. The new version was developed to use real mashed potatoes.
10/27/2012 - I added 4 vegetarian sausages, cut into coins, before adding the cheese. I served it with Cucumber and Tomato Salad and store-bought artisan bread.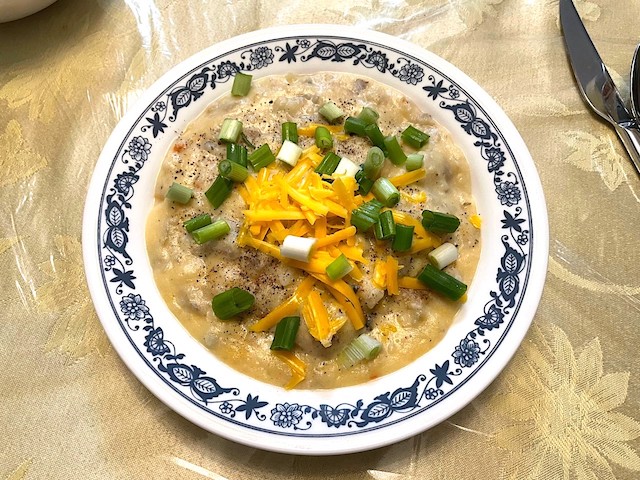 Source: Cooking Light: 5 Ingredient, 15 Minute Cookbook, Oxmoor House, 2004, page 77.
---