Name: Over-the-Rainbow Minestrone
Ingredients:
4 large stems Swiss chard (about 1/2 pound) or fresh baby spinach
2 tablespoons olive oil
1 medium red onion, finely chopped
6 cups vegetable broth
2 cans (14-1/2 ounces each) fire-roasted diced tomatoes, undrained
1 can (16 ounces) kidney beans, rinsed and drained
1 can (15 ounces) garbanzo beans or chickpeas, rinsed and drained
1 medium yellow summer squash or zucchini, halved and cut into 1/4-inch slices
1 medium sweet red or yellow pepper, finely chopped
1 medium carrot, finely chopped
2 garlic cloves, minced
1 1/2 cups uncooked spiral pasta or small pasta shells
1/4 cup prepared pesto
Optional toppings: Additional prepared pesto, shredded Parmesan cheese, crushed red pepper flakes and minced fresh basil
Instructions:
Cut stems from chard; chop stems and leaves separately. Reserve leaves for adding later.
In a large skillet, heat oil over medium heat.
Add onion and chard stems; cook and stir until tender, 3-5 minutes.
Transfer to a 6-qt. slow cooker.
Stir in broth, tomatoes, kidney beans, garbanzo beans, squash, pepper, carrot, and garlic.
Cook, covered, on LOW until vegetables are tender, 6-8 hours.
Stir in pasta and reserved chard leaves.
Cook, covered, on LOW, until pasta is tender, 20-25 minutes longer.
Stir in pesto, If desired.
Serve with optional toppings.
Yield: 10 servings

Comments: 2/19/2022 - I followed the recipe fairly closely. I had red chard, only a small carrots, and rotini. I started the crockpot at 11 AM, and added the pasta and chard leaves at 5:15 PM. The crockpot was filled, but only became overfilled after adding the pasta. I subtracted a cup of the soup after adding the pasta to keep it in the container. Gail suggested that I precook the pasta before adding it, but it was tender enough when following the recipe.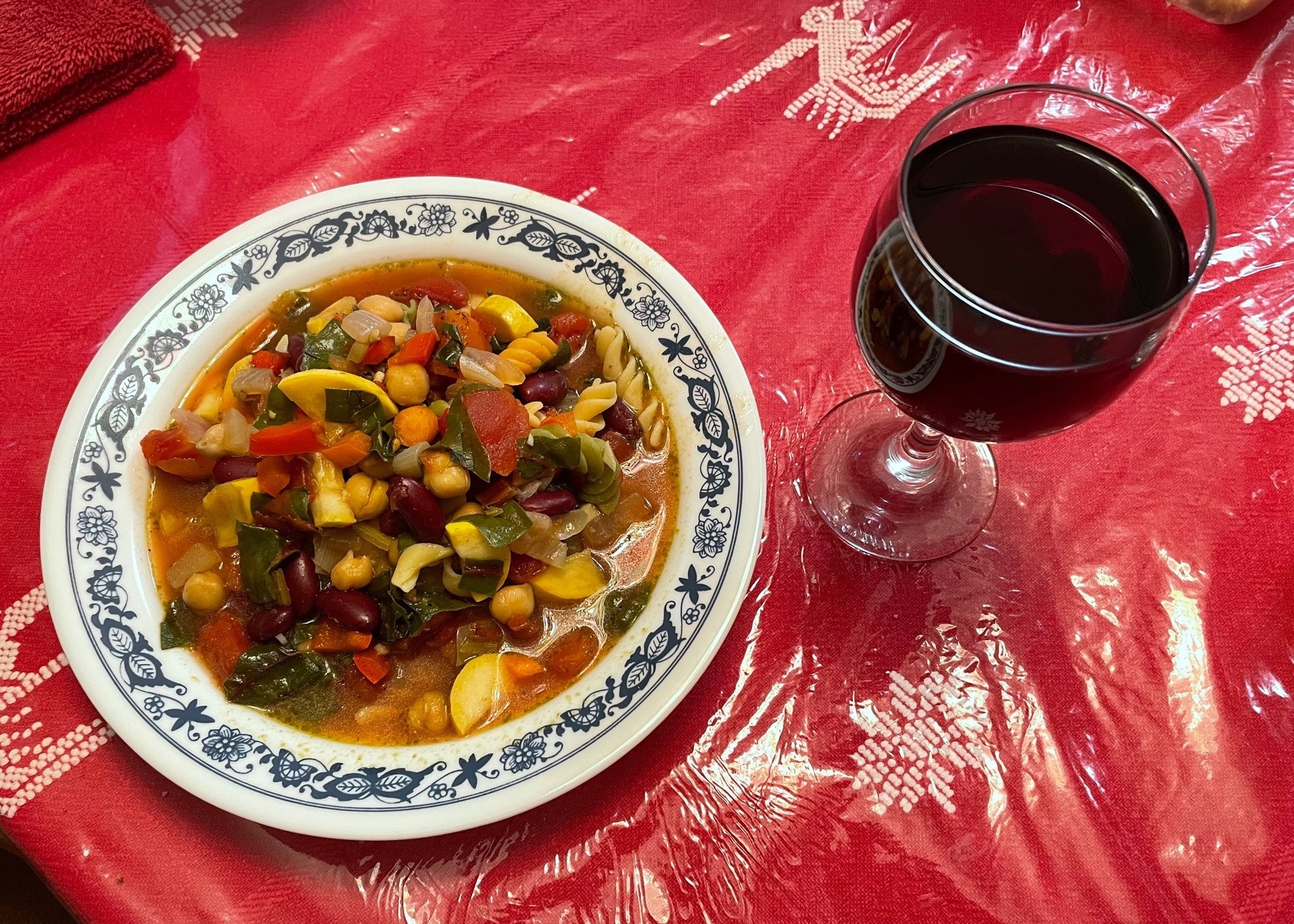 Source: https://www.tasteofhome.com/recipes/over-the-rainbow-minestrone/
---