Name: Baked Zucchini with Garlic, Tomato and Cheese
Ingredients:
2 zucchinis
1 tablespoon olive oil
Garlic powder or minced garlic
1 medium sliced tomato
Grated Parmesan cheese (or mozzarella cheese)
Instructions:
Slice the zucchini in half. Slice off the bottom to keep in stable.
Brush with olive oil and top with garlic or garlic powder.
Top with sliced tomatoes, salt and pepper to taste.
Top with mozzarella cheese, Parmesan cheese or mixed blend..
Bake at 375º for 20 to 30 minutes until soft.
Yield: Serves 2

Comments: 4/30/2013 - Baked for 25 minutes; topped with fresh parsley during the last 5 minutes; very pretty and tasted OK.
2/25/2014 - Used grated cheddar instead of parmesan and that hardened instead of melting; topped with cilantro in last 5 minutes instead of parsley.
3/15/2016 - I used 4 small yellow summer squash in place of the zucchini.
2/13/2023 - I followed the recipe.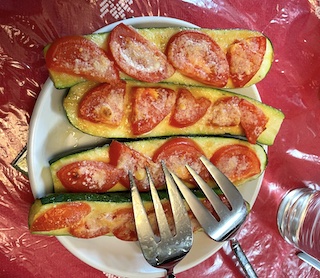 Source: https://www.facebook.com/photo.php?fbid=181033685383854&set=a.100998573387366.2585.100991560054734&type=1&theater
---