Name: 3 Sisters (Squash, Bean, and Corn Stew)
Ingredients:
1/4 cup olive oil
2 onions, sliced thin
2 cloves garlic, chopped
1/2 teaspoon paprika
1/4 teaspoon cayenne
1 teaspoon dried oregano
2 tablespoons drained chopped pimientos (one 4-ounce jar)
1 cup canned crushed tomatoes in thick puree (from a 15-ounce can)
1 butternut squash (about 2 pounds), peeled, halved lengthwise, seeded, and cut into 1-inch dice
1 1/2 cups water
2 teaspoons salt
2 cups drained and rinsed canned kidney beans
2 cups fresh (cut from about 4 ears) or frozen corn kernels
1/2 cup chopped fresh basil (optional)
Instructions:
In a Dutch oven, heat the oil over moderately low heat.
Add the onions and cook, stirring occasionally, until translucent, about 5 minutes.
Add the garlic, paprika, cayenne, and oregano and cook, stirring, until fragrant, about 1 minute.
Stir in the pimientos, tomatoes, squash, water, and salt and bring to a simmer.
Cook the stew, covered, stirring occasionally, until the squash is almost tender, about 15 minutes.
Uncover and simmer vigorously until almost no liquid remains in the pan, about 5 minutes.
Add the beans and corn and cook until the corn is just tender, about 5 minutes.
Stir in the basil.
Yield: 6+ servings. Two of us had three meals from it.

Comments: 9/5/2020 - This recipe took me 1 1/2 hours after I had gathered the ingredients. Peeling the squash was hard and time consuming. I substituted 2 large, chopped tomatoes for the canned tomatoes. I added 1/2 teaspoon of tarragon and one stalk of chopped celery, but omitted the basil. It never got to the point where "almost no liquid remains". I cooked it in our largest pot.
12/12/2020 - Peeling the squash was a little easier after microwaving it for 2 minutes. I used diced tomatoes, 12-oz of frozen white shoepeg corn, and substituted a tablespoon of dried basil leaves for the fresh. It still took about 1 1/2 hours. Gail liked it.
1/24/2021 - I microwaved the squash 4 minutes in 1 minute intervals before peeling. I used the large pot that's kept under the pressure cooker, and filled it 2/3 to 3/4 full. I doubled the paprika and oregano, and substituted 1 tablespoon of basil for the fresh. The liquid never did boil down. It took 1 1/2 hour. I added the beans too early, at step 4, not step 7.
6/14/2021 - This pretty much followed the pattern of 1/24/2021. I used only 1 cup of water and 1 tablespoon of dried basil. Peeling and cutting the vegetables took about 40 minutes. The remainder took about 50 minutes more.
11/2/2021 - I did not peel the squash. After cooking, the peel was a little crunchy, but did not taste bad. I substituted a teaspoon of garlic powder for the two garlics and 2 teaspoons of salt-substitute for the salt. In the 5th step, I cooked the stew for 20 minutes instead of 15, and I may have gone long on the other steps too.
9/17/2022 - It took slightly more than 1 1/2 hours from collecting the ingredients to serving. The squash weighed about 3 lbs. I did not peel it, but cut it into a smaller cubes than the recipe called for. I used one large onion, 1 teaspoon of garlic powder, 1 teaspoon of paprika, about 1/8 teaspoon of cayenne, real salt, and parsley in place of basil.

Source: https://www.foodandwine.com/recipes/squash-bean-and-corn-stew . I originally had a different recipe which included celery and tarragon, but I lost it.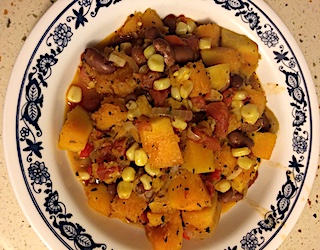 ---