Here is a selection of photos we took during our trip to the midwest in May to celebrate one niece's wedding and another's graduation.

We first attended my niece Melissa Holm's wedding in Marquette. I got photos during the wedding rehearsal at the Landmark Inn. Sadly I left my camera at the motel and did not get any photos during the actual ceremony, but Melissa posted one on Facebook.
---


My brother Carl escorting bride-to-be Melissa during the wedding rehearsal

---


The bride with her mother, Ruth Ann
---
There was light rain on the morning after the wedding, but we all enjoyed a Mother's Day breakfast together. The whole family except the newlyweds were there.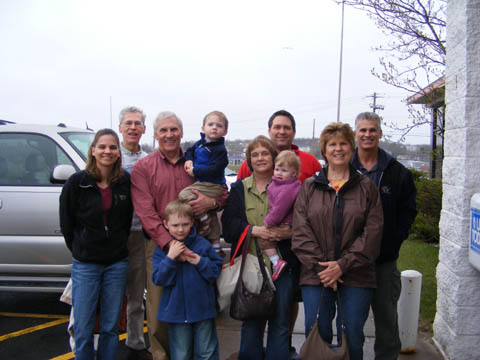 ---
After I gave two astronomy talks in Iron River, Gail and I visited Grand Marais, Michigan, at the east end of the Pictured Rocks National Lakeshore on Lake Superior. The morning we were at Grand Marais was overcast, very windy, and cold. One of the attractions in tiny Grand Marais was a little cottage in the shape of a pickle barrel. It was built in the 1920s for a Chicago Tribune cartoonist who had a strip called "The Teenie Weenies" about miniature people, some of whom lived in a pickle barrel.
---

The pickle barrel cottage

---


After walking along Sable Falls stream, Gail stood
on the Lake Superior beach in the National Lakeshore
---
Gradually the day cleared up but the wind remained strong. We visited the 300-foot-high Grand Sable Dunes. Later we hiked to the Au Sable Light Station.
---


The view from the Log Slide Overlook in the Grand Sable Dunes.
The Au Sable Light Station is visible in the distance.

---


The Au Sable Light Station
---
Leaving Grand Marais and a little little south of it, we saw two sandhill cranes from the highway. But when we visited Bob & Lolly Bower in Shawano, Wisconsin, we found sandhill cranes that came much closer. Here is one walking in the cornfield behind a farmer's barn.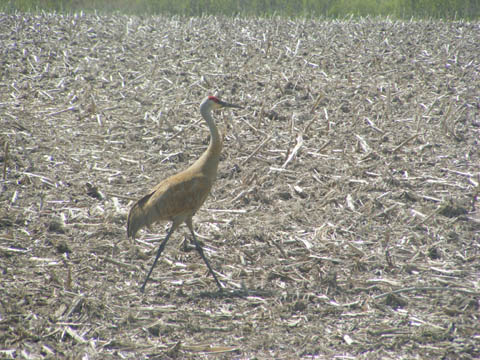 While in Shawno, we helped feed the mosquitos at the Navarino Nature Center, where Bob and Lolly are volunteers.
---
Our next event was Niki Paton's graduation from the University of Wisconsin at River Falls.
---


Guy, Sherri, Troy, Gail and Niki
after dinner at a German restaurant in Hudson, Wisconsin

---


The Graduate
---
After Niki's graduation, I gave one of my astronomy talks at a condominium in St. Paul where Bill Burke, Gail's former boss, lives. Bill and Julie took us sightseeing, among other places, to Buena Vista Park, 500 feet above the town of Alma, WI, and the Mississippi River.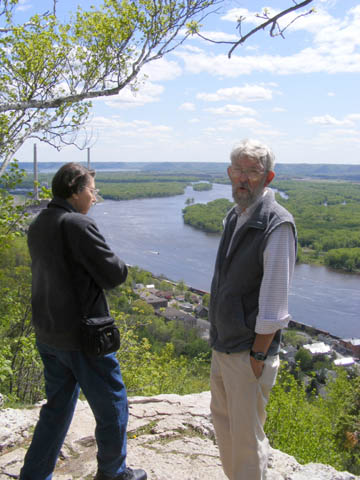 ---
On the way home, I saw this silo as Gail was driving south on I-90 between Madison and the Illinois border. I just managed to get this shot before some trees came between us and it.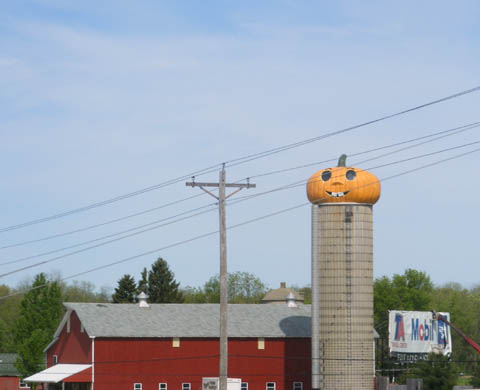 We had a great time.