<! old color is #FFEEAA"> Gail and I returned to St. John in the U.S. Virgin Islands for a third time. We had been there in 2010 and 2011. We stayed on the island at Maho Bay Camps a full week, from Thursday, January 12, through Thursday, January 19. We hiked, helped with trail maintenance and, of course, snorkeled with the tropical fish. I came home with over 380 photographs and videos in my water camera and over 140 in my land camera. Some of my favorites are here.

Our starting was a little ragged because our US Airways flight out of Baltimore was delayed by an hour, causing us to miss our connection to St. Thomas in Philadelphia. The airline re-routed us on a flight to San Juan and then on an American Express flight to St. Thomas. This caused us to come in a lot later than expected. The benefit was a terrific view of the night sky during our ferry ride from St. Thomas to St. John, even as far south as Canopus, with a meteor thrown in for good measure. The downside was that our suitcase with our snorkel gear and the food for our breakfasts and lunches did not catch up with us until Saturday morning.

The camp assigned us a cabin about as far from the center as possible. We had a beautiful view of Maho Bay from our deck. We also were able to watch birds and iguanas from the deck. A great place to relax after breakfast and in the late afternoon!
| Al in front of our tent-cabin, A07 | The view from our deck |
| --- | --- |
| | |
---
Iguana in a pipe organ cactus downslope
recharging after a long night
Iguana sampling the appitizers
---
Security in our unit was provided by Big Waldo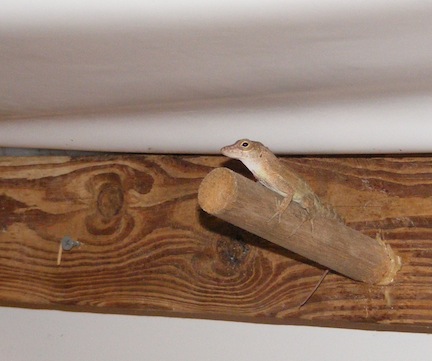 The island of St. John is formed from volcanic rock and is very hilly. Three of its summits are over 1,000 feet above the sea and two more are between 900 and 1,000 feet high. All around the island are bays, most with beautiful sand beaches and with fringing reefs, which are shown in pink on this map. The Virgin Islands National Park covers most of the island. Click on the map to see a larger version.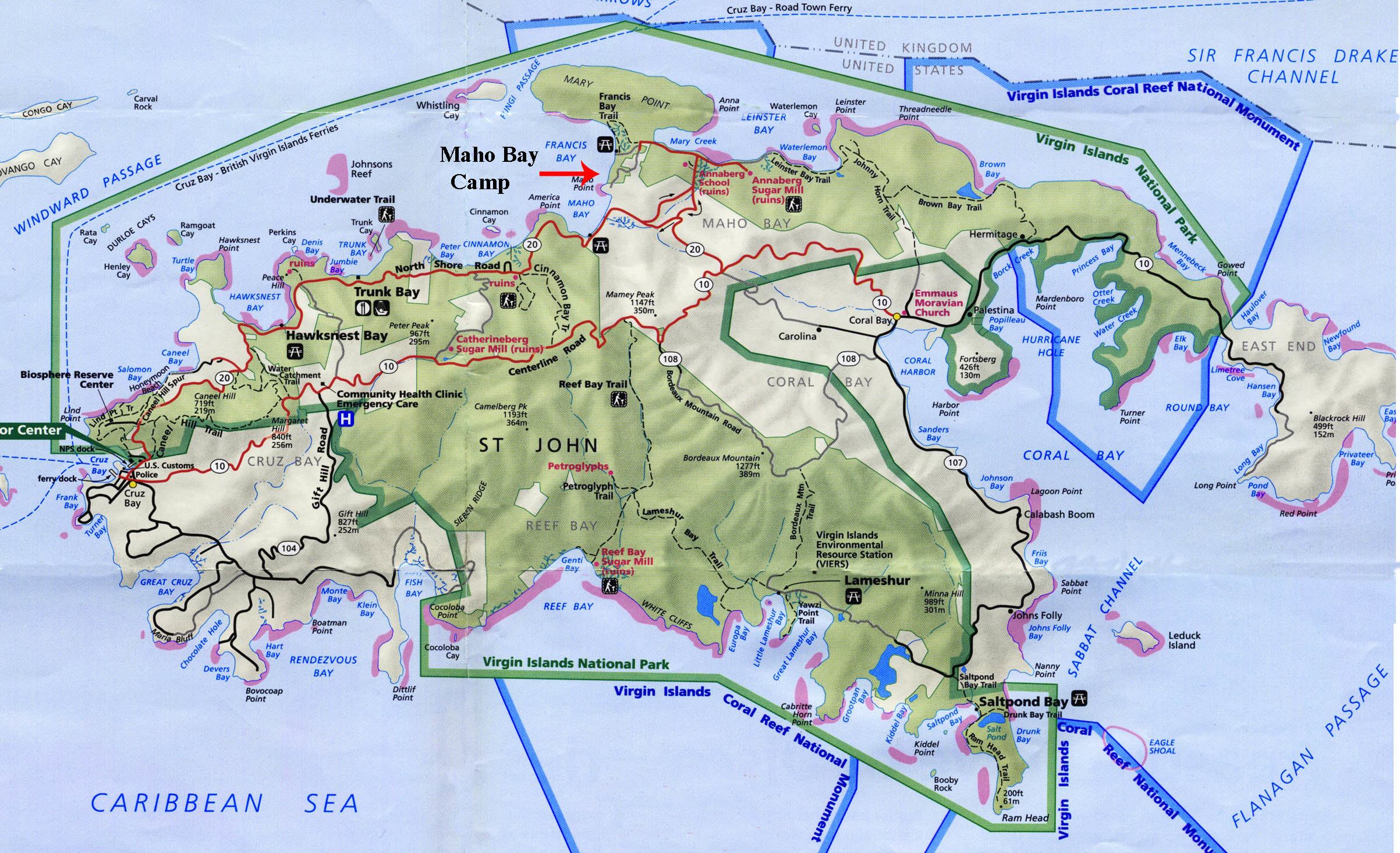 <! ORIGINAL SIZE WIDTH=2405 HEIGHT=1465 >
On our first full day, lacking our gear, we hiked east along the trails to Brown Bay and back.
On Saturday, we hiked east again, but only as far as Waterlemon Bay, where we put our snorkels and fins to good use. The water was much clearer than last year. The most exciting sight we had during this day, and during the whole week, was of some reef squid who put on a show for us.
| Two Reef Squid | The same two squid in formation |
| --- | --- |
| | |
---
Juvenile French Angelfish
Southern Stingray feeding on something under the sand
A Bar Jack and Yellowtail Snapper are waiting for scraps.
---
| Gail swims down to check out a flounder | The Peacock Flounder |
| --- | --- |
| | |
---
On Sunday we took an island taxi - a F-350 pickup with benches in the bed and a canopy over them - to Saltpond Bay in the extreme southeast of the island. We swam along the eastern shore of the bay where much of the bottom was silted over. Then we swam out to rocks in the middle of the bay where the coral was much cleaner. We saw more interesting creatures out there. I saw a couple of small jelly fish there, but they were nearly transparent and I could not get any photographs of them.
School of Blue Tangs
Turtle
Maybe a Hawksbill Turtle, but hard to say
---
Smooth Trunkfish seen from above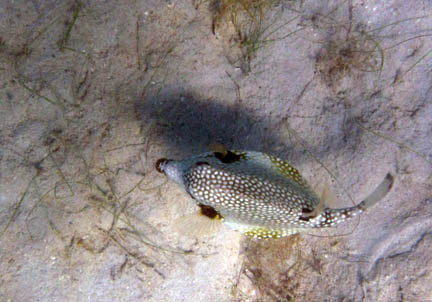 ---
On Monday we swam from the beach at Maho Bay camp to the reef along the north shore of Francis Bay. Again we got to see fish and other creatures that we'd never seen before, even though we had visited this reef during each of the past two years.
A school of darting small fish collectively called silversides
Click on the photo to see of short video of silversides
Anenome, red sponge and shiny balls that might be squid eggs
---
This Scrawled Cowfish was nearly all white
when I first approached it
The Scrawled Cowfish changed color within seconds!
Would that we all could do that!
---
| A Squirrelfish hiding under coral during the day | A school of Bar Jacks swam past several times |
| --- | --- |
| | |
---
| An Ocean Surgeon | A Scrawled Filefish |
| --- | --- |
| | |
---
On Tuesday, we volunteered to help out with the Friends of the Virgin Islands National Park. Our leader, Jeff, took us back to the Saltpond Bay area, where we worked on clearing brush away from the Ram Head and Drunk Bay Trails. This photo shows Jeff at work on the Drunk Bay Trail.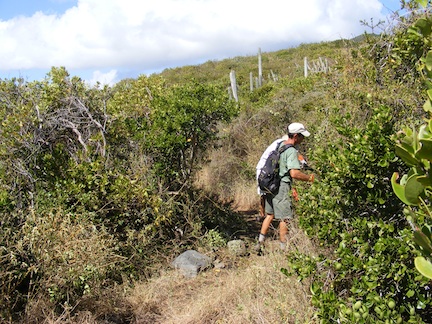 ---
On Tuesday night, we experimented with snorkeling at night. We rented underwater flashlights from the watersports shop at the camp. The night started out well with the appearance of greenish-white phosphorescent spots on the waves breaking on the sand. However, once we got in the water, we found that there was a lot material in the water that reflected the light back towards us. There were a lot of small fish darting through the murk, but the murk and these fish were nearly all we could see. It was difficult to know where we were with regard to the shore and the reef. I got lost several times and wound up swimming in the wrong direction. When the battery in Gail's flashlight went dead prematurely, we found our way back to the beach and gave up. This photo gives an example of what we could see.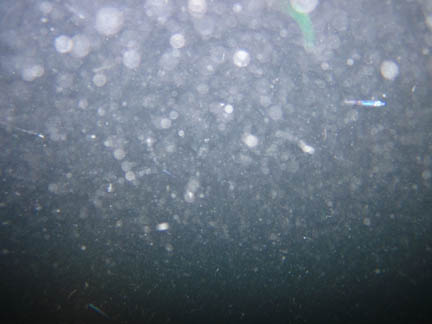 ---
On our last full day on St. John, we took an island taxi to the head of the Reef Bay trail, which we hiked down to see petroglyphs created 500 to 1,000 years ago by the Taino indians. We also saw the ruins of two sugar factories dating from the time when sugar canes were the main product of this Danish colony.
One of the Taino petroglyphs
It looks like an alien from a 1950s SF movie.
More petroglyphs with their reflection in a pool
They are much easier to see when the rock is wet.
---
Sugar factory ruins seen along the Reef Bay Trail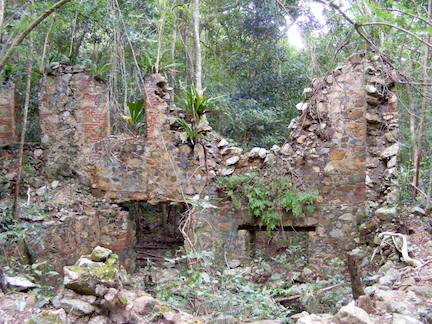 ---
We did not see or do everything we wanted. We did not see any sharks. We did not take the ferry to Virgin Gorda in the British Virgin Islands. These are things to look forward to next year. We might even try night snorkeling again if we have an experienced guide.
---
---
Responsible: Albert Holm
Updated: 21 Jan 2019