Gail, Doug and I drove to New York Saturday morning, Feb 23, to see CJ perform that evening at the Canco Lofts in New Jersey.

After we arrived, CJ met us at the La Quinta Inn hotel. We had lunch at a local Korean restaurant and then took the subway down to Whitehall Street where we caught the Staten Island Ferry for a free cruise.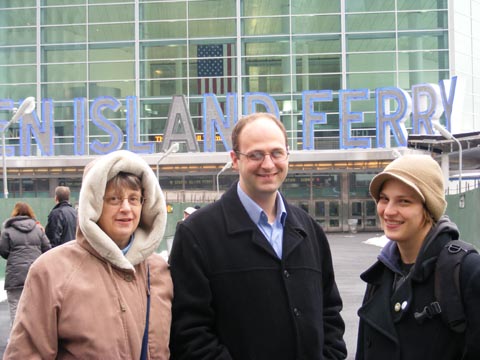 ---
During the ferry ride, we passed the Statue of Liberty as a Coast Guard vessel came the other direction. I thought this view was thought provoking.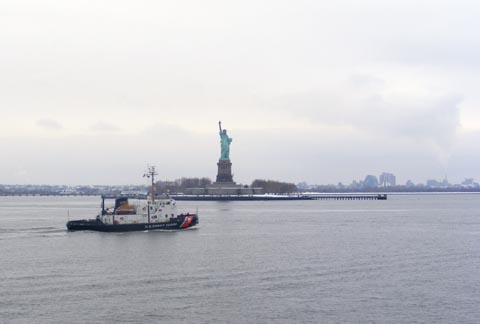 ---
We could not take photos at the performance. The performance - Soft Walls - was very surprising to the performers as well as to the audience. It started with the audience and two performers in a large, dark and cold warehouse room. The two performers climbed walls and windows, manipulated dry wall sheets, and eventually used a screwdriver to punch a small hole through a wall into an adjoining room. Light poured out from that small hole. Members of the audience joined in poking holes into the wall with screw drivers, power drills and even fists. We could see that there were performers in the next room. Eventually the holes were enlarged enough that the audience members could pass through into the next room. The performers were not expecting that we would come through the wall; they thought we would just peek through the holes. A good time was had by all.
Behind our hotel is the Empire State Building. Here's what we could see from the window in our 11th floor room.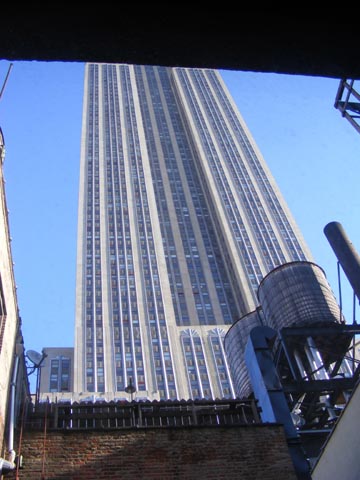 ---
On Sunday, we went to Rockefeller Plaza and took the elevator to "Top of the Rock" at the top of the 850-foot high GE Building. Three floors were set up as observation decks and we could look out over much of the city. Here are CJ's boy friend Chris Willets, CJ, Doug and Gail with upper Manhattan behind them.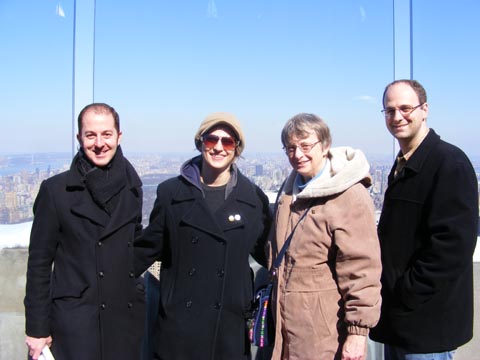 ---
Here is upper Manhattan with Central Park.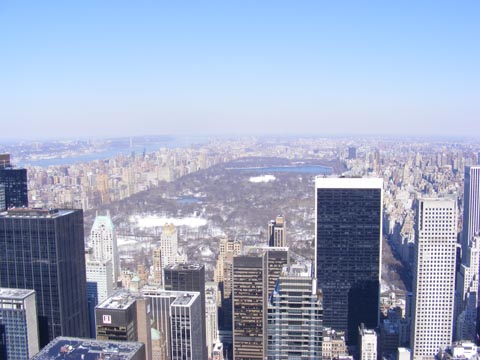 ---
Here is Lower Manhattan seen from "Top of the Rock". The Empire State Building dominates the view. Approximately halfway between the Empire State Building and the right edge of the photo, the Statue of Liberty is marked by a small vertical speck in the harbor.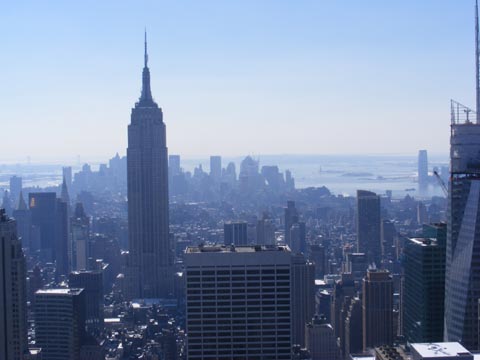 ---
Looking down from the upper desk of "Top of the Rock", we saw people on the deck below and the rooftops of many buildings, most of them with water tanks on top.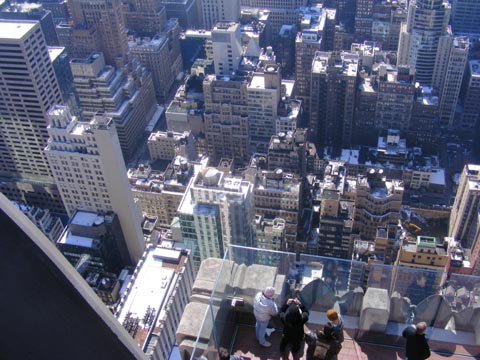 Afterwards we walked to the Lincoln Center, but I did not get any photos.