<!body BGCOLOR="#CCCCFF">
---
This year the Minn Clan returned to southeastern Minnesota. We settled in at the Cedar Valley Resort, which has beautiful cabins where we could cook, sleep, and hold extended discussions. They also have WiFi so our two laptops and a tablet were able to access information.

The resort in tiny Whelan, MN, is only five miles from Lanesboro, where we rendezvoused last spring, and just a block from the The Pie Shop, where we enjoyed a second breakfast last year. Sadly, The Pie Shop was closed from Monday through Wednesday, the entire length of our stay.

Food, of course, sustains life. Bill and Julie provided a marvelous ham-pea soup for Sunday evening supplemented with naan thanks to Bob and herring salad from Lolly. For an early meal before the play on Monday evening, Anne and Bob comforted us with turkey chili-mac. For Tuesday evening dinner Gail, Maija, and Al prepared Spiced meat loaf, mashed potatoes and carrots in dill butter while Julie chopped, chopped, and chopped the salad, all followed by a Finish apple pie that Maija made.
---

Our dining area

---

The conversation room
---
We, with the exception of Bob and Anne who were still on the road from St. Louis, saw Tom Stoppard's play Arcadia at the Commonweal Theater in Lanesboro Sunday afternoon. It was comical and thought provoking. The actors were very good. Monday evening we saw the same company, and some of the same actors, put on Around the World in 80 Days, a crowd pleaser in which the five actors played multiple roles.
Other activities we did were to walk and bike along the Root River State Trail, visit the Pine Tree Apple Orchard - where Sweetango apples were very tasty - play a little horseshoes, read, nap a little, discuss books, and catch up on happenings and people past and present.
| Gail on the Root River State Trail | Bill and Bob |
| --- | --- |
| | |
---


In the Pine Tree Apple Orchard

---


Found in the Pine Tree Apple Orchard
---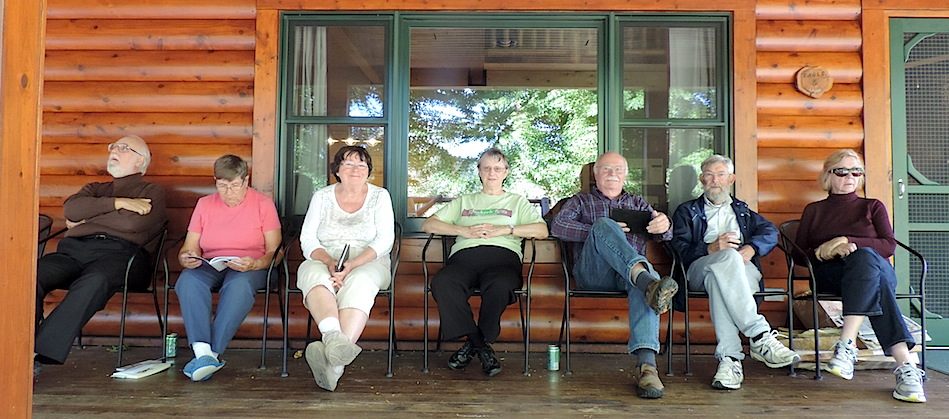 Where to next year? Possibly visiting the Holms in Maryland.
---
---
Responsible: Albert Holm, Prepared: 26 Sept 2014; Updated: 12 Sept 2019