---
Go to Al's arrival in Guayaquil
Go to start of Galápagos visit
Go to middle of Galápagos visit
Go to end of Galápagos visit
---
Gail went to the city of Guayaquil in Ecuador at the end of May 2007 to teach for a month at the Center Ecuadoran North American (CEN). She got a room in the home of a sculptress, Doña Yela Loffreta, who is famous in Ecuador. In this photo from a boat on the River Guayas, Doña Yela's home is the large white building near river on the right side. At the top of the hill at the left, Cerro Santa Ana, you can see the historic light house and Church of the Santa Ana. The colorful houses climbing the hill belong to the Las Peñas district.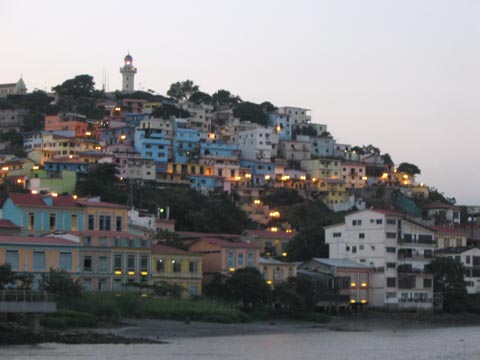 ---
One of Doña Yela's works is the Venus of Valdiva
---
The Las Peñas district lines the 444 steps from the Malecón 2000 up Cerro Santa Ana (Santa Ana Hill) to the terrace on which the church and light house sit. The district includes restaurants and clubs, all of which have to be provisioned by people carrying supplies up the stairs.
---
This is the Church of San Francisco on the plaza of the same name, which is next to the main street of Guayaquil, "9 de Octubre". There are large advertisements on the Panasonic building behind the church.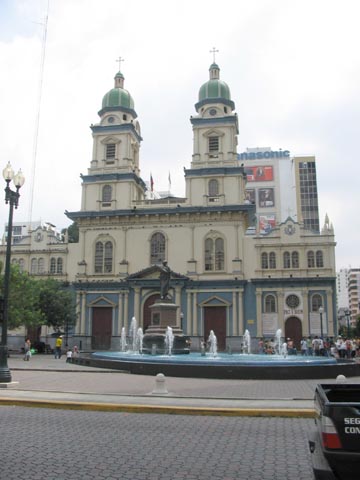 ---
This is the Palace of the Governor. The building occupies one block and features a large open corridor running through its middle. In the next block is the Guayaquil Municipal building which has a similar architecture.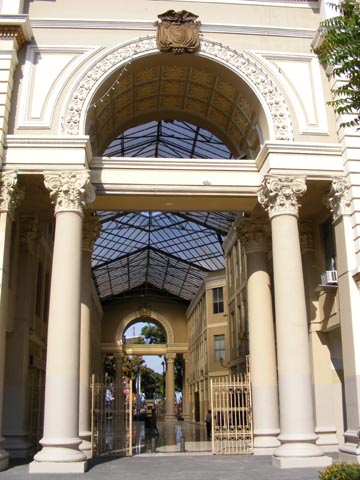 ---
This building features large works of art that appear to be framed paintings on its side.
---
On one weekend, Gail took a side trip to the old city of Cuenca. While she was there, she visited Ingapirca, the ruins of an Incan city. This photo shows a structure called "Temple of the Sun". People standing to the left of the structure give an idea of the scale.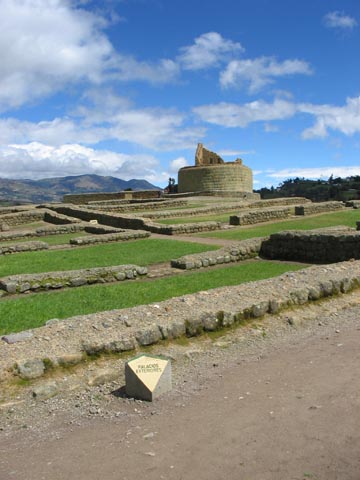 ---
In Cuenca, she was surprised to find herself in the middle of the festival of Corpus Christi. Here are fireworks for the festival.
---
Back at the CEN in Guayaquil, here is Gail with some of her students.
---
After the session ended, some students took Gail to a restaurant to celebrate. Among them was Fidel Castro, a not uncommon name here.
---
---
Back to the top of this page
Go to Al's arrival in Guayaquil
Go to start of Galápagos visit
Go to middle of Galápagos visit
Go to end of Galápagos visit