Travel to Marquette for Celebration of Life for Carl David Holm
---
My brother, Carl David Holm, died suddenly and unexpectedly at home on Saturday, Feb 23, 2019. In accordance with his wishes, his family organized a Celebration of Life or him on Tuesday, March 5, at the Ore Dock Brewing Company of Marquette, Michigan. His siblings - Terri, Wayne, and me - and two of his three first cousins - John and Jim Baker - were able to attend.
Gail and I flew to Marquette via Detroit on Delta on March 4. The schedule gave us an hour and a half to make our connection in Detroit. But our departure from Detroit inched later and later as the plane we were to fly on was delayed by mechanical problems in Escanaba. Finally the plane arrived and we could board. But then we just sat at the gate. It turned out that the pushback tractor had its own problems, and it took the airline some time to get another. Finally, we were pushed back from the gate, 50 feet and then we stopped. The battery on the replacement pushback tractor went dead, and we sat there again. Eventually, Delta got a working tractor and we were out onto the taxiway, from which we headed for de-icing. It was about 3 1/2 hours late when we got in the air. Happily, Terri and Wayne were waiting for us at Sawyer International Airport when we eventually arrived.
That evening we visited with Ruth Ann and her sisters Suzie and Carol. Carol had had a similar delay to ours with her flight from Detroit to Marquette the previous day.
Terri, Wayne, and we stayed at the Settle Inn, which was being converted into a Quality Inn and all the first floor rooms were being remodeled. Tuesday morning the four of us chatted at breakfast for a long time. Then we went out for pasties for lunch and a little sightseeing in Marquette.
---


Terri, Gail, and Wayne outside the pasty shop.
There was a little snow there.

---


Inside the pasty shop after the meal.
Don't we look well fed?

---


The Marquette Harbor Lighthouse seen from the back

---


They really do mean "Do Not Enter" on Presque Isle
The Celebration of Life was attended by several hundred people whose lives Carl touched, including family members, former colleagues at Northern Michigan University, members of Joe's Gym, childhood friends, and fellow motorcyclists. It was the kind of a celebration that he would have loved.

Many stories told of Carl both privately and publicly at the time of sharing memories. Some of these stories included: his time as a founding member of the Excels band; hiding in ferns while playing cowboys and indians with his cousins and other friends; his lonely weeks in St. Mary's hospital while being treated for rheumatic fever at age 4; his action-oriented approach to solving problems, such as grabbing the end of a roll of carpet to move it from the correct dorm floor; live-trapping squirrels bothering his bird feeders and releasing them a mile away; debating faith with a Jehovah's Witness who was also a member of his gym; disliking Grateful Dead music even though he resembled Jerry Garcia in one of his early university ID cards; and his enjoyment of the Porter beer at Ore Dock Brewing. Everyone agreed that Carl was quick to notice when people needed help and quick to try to improve the situation.

Whilte I got some photos during the Celebration, which you can see below, I did not get photos of most of the folks attending. Mostly I concentrated on family.

A slide show of photos - Carl always had a dazzling smile - was projected above the stage where the urn containing his ashes sat. Some of these photos are included at the end of this page. His obituary is also included at the end of this page>

Entrance to the Ore Dock Brewing Company, without the snow banks of March


---
Many of Carl's extended family: from left to right, Jim Baker, Terri Holm, Chris Holm with his younger son Griffen, Wayne Holm, Gail Holm, John Baker, Sherry Baker, Albert Holm, Ruth Ann Holm, and Melissa DellAngelo. Chris's older son and Melissa's two children are missing.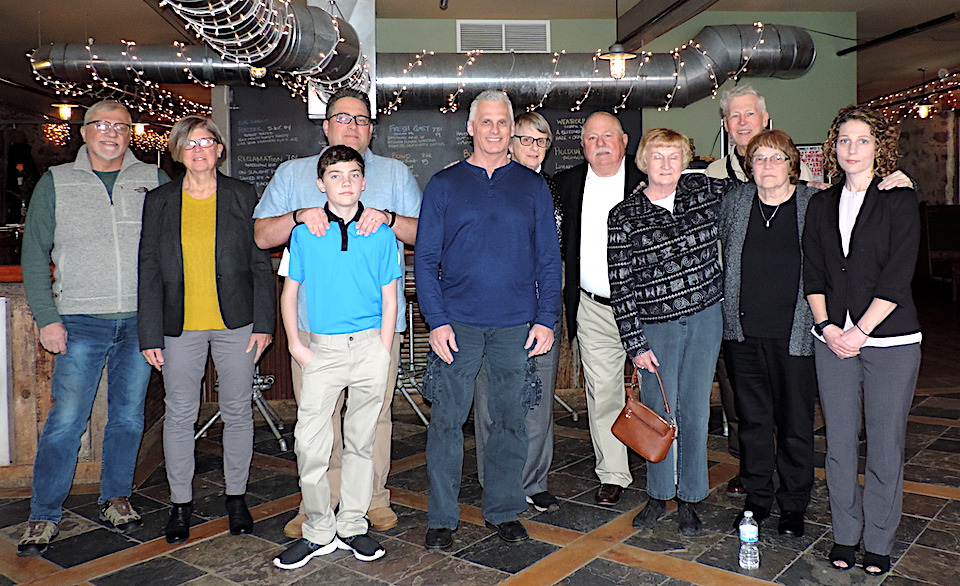 Here are some photos taken during the Celebration of Life.
---


Gail, Wayne, and Caden, who is wearing a leather jacket
that belonged to his grandfather.

---


Carl's grandchildren Griffen, Macyn, and Evan

---


Wayne, Gail, Sherry, John, and Jim

---


Gail, Terri, and Jim

---


Tom and Barb Kneebone, Gail, and Wayne.
The Kneebones were childhood friends.

---


Terri with Barb and Tom Kneebone.
Their mother, Dorothy, was a childhood friend of Carl's mother.

---


Wayne with Melissa's father-in-law Andrew DellAngelo

---


Gail with Melissa's in-laws

---


Chris leading off the time for sharing memories
After the ceremony, we visited with Ruth Ann, her sisters, and children at her home.
The next day, Terri and Wayne dropped us off at Ruth Ann's before they began the long drive back to Onalaska and Rochester. Ruth Ann took us to the airport in the afternoon. Both of our flights were on time, and we arrived home safely.
Here are some slide show images from Carl's life.
Obituary from Fassbender Swanson Hansen Funeral & Cremation Services
Carl David Holm, age 71, of Marquette, entered eternal life Saturday, February 23, 2019, at home. Carl was born October 8, 1947 in Stambaugh, Michigan, to Carl and Helen (Nault) Holm. He graduated in 1965 from Iron River High School. While in school, he was the bassist and a founding member of the highly-regarded band, The Excels. In 2017, the band was inducted into the Michigan Rock & Roll Legends Hall of Fame. Just this past summer, the former bandmates held a reunion in Marquette where they were able to reconnect and share their memories.
Carl began his college career at Michigan Technological University and concluded at Northern Michigan University where he earned his Bachelor's Degree in Psychology and his Masters of Education in Counseling and Guidance. He started his 42-year career at NMU in 1972, retiring as the Director of Housing and Residence Life in 2014. Carl had been a long-time member of Joe's Gym, where he enjoyed the relationships as much as he did the workouts. He loved supporting his children and grandchildren, following their activities, and mentoring them whenever possible. He enjoyed spending time with his many friends, gardening, feeding wildlife in his backyard, reading about leadership and history, and riding his beloved Harley Davidson whenever possible.
Carl is survived by his wife of 50 years, Ruth Ann; his two children, Chris (April) Holm and Melissa (Mike) DellAngelo, both of Negaunee; four grandchildren, Caden and Griffen Holm, Macyn and Evan DellAngelo; two brothers, Albert (Gail) Holm of Columbia, MD and Wayne Holm of Rochester, MN; his sister, Terri Holm of Onalaska, WI: several nieces and nephews. He was preceded in death by his parents; and his step-father, Murray Baker. To honor Carl's wishes, a Celebration of Life gathering will be held at the Ore Dock Brewery on Tuesday, March 5, from 2:00 pm until 5:00 pm, with a time of sharing memories at 4:00 pm.
---
Prepared by: Albert Holm
Date: 9 March 2019; Updated: 30 March 2019