---
In past years we have volunteered in state parks in Idaho, Utah, and the Pacific northwest. We enjoyed that and got to see a lot of country we'd never been to before, including national parks that we visited during the journeys to and from our main locations.

This year was different. Our adventure was going to be shorter than usual so we picked a park in New England. We had previously spent a little time in Maine when CJ was attending dance camp at Bates College, but this would be a longer, more immersive experience. Furthermore, on our way to Maine we would stop in Vermont, where neither of us had ever visited, and in New Hampshire, where previously we only had driven through on our way to Maine.
---
Vermont
We only spent one full day in Vermont. We stayed at Button Bay State Park on the banks of Lake Champlain. During our day of sightseeing we visited Mount Philo State Park and the Rokeby Museum.
Mount Philo, 968 feet high, overlooks Lake Champlain. We had the option of hiking to the top or driving. We chose to drive because the hiking trails were wet and muddy; the waitress where we ate said they had had rain on 30 consecutive days. At the top we met a class of third through fifth graders who had hiked up the mountain. Nearly all the students were refugees from places like Somalia and Congo. They were fascinated with our binoculars and delighted in taking turns taking photos of Al with other classmates.
The Rokeby Museum features the role of the Robinson family in the underground railroad and in running a major farm in Vermont. Many buildings and their furnishings are open for inspection.

]>
Us on Mount Philo
Photo taken by one of the students of Al and another student
A Map Turtle laying her eggs in the middle of a driveway
at Button Bay State Park
Sunset across Lake Champlain from Button Point
One of the quotations from former slaves displayed in the Rokeby Museum


---
New Hampshire
We camped in Twin Mountains, New Hampshire. The weather predictions were not auspicious so we were not sure what we could do during our two full days there.
On the first day we visited Franconia Notch State Park. Fortunately, the rain stayed away. We were a little confused by how to find the park when we first arrived; Interstate 93 is the main park road. We hiked through a narrow gulch called the Flume, stopped at a pool worn by swirling river water called the Basin, and rode a tram up 4,100-foot-high Cannon Mountain.
---

Us at the Pemigewasset River below where it emerged from The Flume

---

A pretty covered bridge

---

Ascending The Flume

---

Avalanche Falls
The tram up Cannon Mountain
Climbing the observation tower atop Cannon Mountain
On Sunday, we drove the Mount Washington Auto Road to its summit. Actually, Gail drove it and she kept us safely on the road. Some of the road seemed a little narrow for two-way traffic, especially during the one-mile gravel section. The record for the fastest time driving the 7.6 miles up the mountain is just under 5 min 45 sec. We made no effort to set any speed records.
We didn't see much from Mount Washington, but this might not be uncommon. The summit was in the clouds and a heavy downpour began before we started down. But now we proudly have a "This Car Climbed Mount Washington" bumper sticker for our F-250 pickup.
---

A paved portion of the road up Mount Washington

---

The view from the summit
---
Maine
Lake St. George is located in the town of Liberty, Maine, which lies between the capital, Augusta, and the city of Belfast, on the coast. The lake covers 1,017 acres acres, is spring-fed, and has Common Loons and salmon. The park covers 385 acres on the north side of the lake and has families of American Black Ducks.

The campground has 40 sites. Here are some along the shore.

When we arrived, we pulled into the field across from our site to get a better angle for backing in, and promptly got stuck in the mud under the grass. It took two other campers to pull us out.
After having spent a number of summer's volunteering in western parks, this summer we rediscovered that some regions of the country have biting creatures, such as mosquitoes, flies, and ticks. Here in Maine, we had those and we also risked discomfort from the caterpillars of Browntail Moths. The caterpillars have tiny hairs that break off and can cause a rash similar to poison ivy. These hairs can be found on trees, lawns, picnic tables, pit toilets, and even floating in the air.
This region of Maine is interesting. It is quite hilly. The hills are not high, but there seems to be little level ground. There are numerous lakes, and often we see one while driving along the road. We also frequently see cemeteries along the road; there are three between our park and the nearest supermarket, a distance of 14 miles. The countryside is mostly wooded, but there are a lot of driveways along the roads.
There appear to be no regular bars or taverns in this region. There are two local craft brewing companies. One serves food; one schedules a food truck. Both are only open Thursday through Sunday, and have limited hours on those days. There are two local restaurants that serve breakfast and lunch, and serve dinner on weekends. There was a Mexican restaurant nearby, but it went out of business after a year or so. Maine's coastal region is oriented towards tourism, but not here inland.
---

The beach and day use area at Lake St.George

---

A view of the lake

---

Some of the park team: Tom, Gail, Hoyt, and Janet

---

Sunshine, our park manager

---

Al using the John Deere 420 to deliver firewood to be sold

---

What did we do as park hosts? Every park has different needs. Originally we were going to be interpretive hosts. Al would give astronomy programs on the weekends and Gail would help set up a junior ranger program. Al did hold astronomy programs on two weekends. Each evening started with a PowerPoint presentation before it got dark, the first week an old talk about Behind the Scenes at Space Telescope and the next a talk about the Moon, to honor the 50th anniversary of the Apollo 11 landing. After the talks, we located Jupiter and important stars, and watched the International Space Station pass.

Circumstances caused our plans to change. District management failed to give permission for nighttime programs at the park Then the park lost staff due to injury, illness, and alternative work opportunities. So we wound up doing more routine duties. These included cleaning camp sites and the day use area, mowing, and keeping the wood shed stocked. We've done some of these in the past. Gail also developed new skills for sharpening tools and organizing a room full of uniforms.

Cleaning the day use area became harder in late July when a family of a dozen Canada Geese began spending nights there. You should have seen us chasing them in the mornings. Happily, they moved on after two weeks.

Our camp site could usually get WiFi. The ISP turned off service from 8 PM until 6 AM. Once the router was out for two weeks until a power supply was replaced. Otherwise this worked well for us.

---

The waters of Lake St. George are usually calm

---

A quiet cove across from the park
---
CJ visited us early in July. We did some sightseeing with her. Among other things, we visit the 42-story high observatory in one of the towers of the Penobscot Narrows Bridge, explored Maine's Fort Knox, took a cruise to a puffin bird sanctuary on Eastern Egg Rock, and skipped rocks at the shore near the lighthouse on Owls Head.
Fort Knox was started after a conflict with Britain over the border with Canada and completed during the Civil War. Both it and the better-known Fort Knox in Kentucky were named after Henry Knox, a general during the Revolutionary War and the first Secretary of War. The fort's mighty guns were never fired in anger. The guns were fired twice for salutes, and both times they broke many windows in neighboring Bucksport.
The boat that carried us to see the puffins and other birds was built at Solomons Island, Maryland in 1943. It served as a tender in the Pacific during World War II.
---

One of the two towers of the Penobscot Narrows Bridge

---

CJ and a view down river from the observatory

---

Watch out at Fort Knox!

---

A 10-inch Rodman Cannon in a casemate at Fort Knox

---

CJ gives Al first aid at a Fort Knox ambulance

---

An Atlantic crab gives Gail a foot treatment at Moose Point State Park

---

One of many Puffins at Eastern Egg Rock

---

We were happy we brought windbreakers on the puffin cruise

---

Harbor Seals on Little Franklin Ledge

---

CJ at the 1852 Owls Head Lighthouse
---
One day, we visited the Maine Coastal Botanical Gardens. It had many features of interest - a butterfly garden, activities for children, artwork, a special garden to engage the five senses, walking trails, and a nice cafe - but we were disappointed that it did not feature more native Maine plants.
A tasteful flower bed
A deer sculpture made from rebar

---

An old rock wall remaining from before this was a public attraction

---

One of many sculptures by Steve Tobin on display

---

---

Camden Hills State Park

---

Camden town and harbor seen from Mount Battie
Another day, we visited Camden Hills State Park, which is on the coast a little south of Belfast. The park features low mountains and many miles of hiking trails as well as a short length of water front. There we drove up 780-foot Mount Battie, which features a rock tower and was the site of a poem by Edna St. Vincent Millay. We ate lunch by the shore and watched the crabs in a tidal pool.

---

The Mount Battie tower

---

Blue shirts were appropriate because we found blueberries there
---
Down East
To the mosquitoes at Cobscook Bay State Park we were the only game in town.... and everyone wanted a part of the action! Bug dope helped a little, but only a little. Except for them, our two-day, tenting excursion to Cobscook Bay State Park and the down east part of Maine was enjoyable.
Our first activity was to visit Quoddy Head, the eastern-most point of land in the U.S. Unfortunately for seeing any seabirds, heavy fog caused our view out to sea to be only slightly better than the view we had on Mt. Washington. However, we did enjoy seeing exotic plants on the Bog Trail inland.
We had a relaxing lunch in Lubec, overlooking the channel between Maine and New Brunswick. Later we walked along Mowry Beach, and then headed back for an evening with our blood-thirsty foes at Cobscook Bay.
The following day, we visited the Schoodic Peninsula unit of Acadia National Park. We had visited the Mount Desert Island unit of Acadia in 2001 and found it too crowded then. It is even worse now. But the Schoodic Unit wasn't bad, even though there was competition for parking in some places.
---

The ocean view from the shore at Quoddy Head

---

Gail by the West Quoddy Light at the easternmost point in the U.S.
44 deg 48.9 min north, 66 deg 57.1 min west

---

Rocky cliff on the Quoddy Peninsula

---

The 1889 Lubec Channel Light still faded in and out the fog at 3PM
---

The boardwalk into the bog

---

Pitcher Plants

---

Baked Apple Berry leaves
and Red Sphagnum

---

Sundew
Site 74 at Cobscook Bay was nice, except for the mosquitoes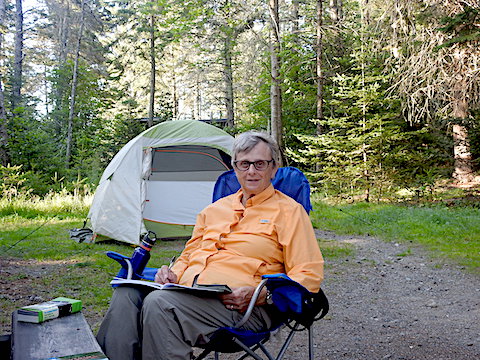 ---

Some of the rocky shore of the Schoodic peninsula (click for a video)

---

A crab boat operating off the Schoodic peninsula

---

The diabase dike erodes more quickly than the surrounding granite

---

Us on Schoodic Point
---
One Sunday afternoon we took an excursion to Warren Island State Park
| | |
| --- | --- |
| Warren Island is unique among Maine's parks in that it can only be reached by private boat (or swimming). Lake St. George's manager used to be the ranger there and she had lots of stories to tell: about the original ranger's quarters being a windowless shed; about the 27-bedroom log cabin that used to occupy the island; about constructing trails and campsites; and about Mrs. Zilica, "wife of Isaac Thomas", who died at age 22 on July 9, 1841, and whose ghost is reported from time to time. | |
---
Mount Blue State Park, in Western Maine
Campsite 14 at Mount Blue State Park
<! Approx elevation of Tumbledown Pond 2,671 feet from https://www.topozone.com/maine/franklin-me/lake/tumbledown-pond/> <! The map shows the peak of the Parker Ridge as 2872 feet > <! https://www.alltrails.com/trail/us/maine/tumbledown-brook-trail Elevation gain 1,840 (I think to the top of Tumbledown Mountain, which is 3,054 feet) > <! https://www.alltrails.com/trail/us/maine/tumbledown-pond-via-parker-ridge > <! Therefore, Brook Trail is apt 1,457 feet, And the peak of Parker Ridge is about 200 feet above the lake > The campground at Mount Blue was much more comfortable than at Cobscook Bay - very few mosquitoes and smaller pebbles under our tent. The campground is on Webb Lake. A second unit of the park covers Mount Blue. The park is associated with the Tumbledown Mountain Public Lands, and most of the hiking trails are at Tumbledown.

We decided to start our day in the park by hiking the Brook Trail to Tumbledown Pond, a small alpine lake at 2,671 feet <!below the summit of Tumbledown Mountain>. The park's brochure said it would be a moderate, 3-hour, 3-mile round trip. The lady at the campground booth suggested that we bring food as well as water so we stuffed some breakfast bars in Al's backpack. The trail started off as a gradual climb, but its upper end rose steeply with scrambles over boulders and rocks. Other hikers, including a family with a 6-year old girl, passed us. The trail ascended about 1,460 feet, nearly matching our hike on the Grinnell Glacier Trail in Glacier National Park in 2013, but Maine's Brook Trail was much steeper and we were six years older. Still we made it!

A man with a heavy English Lab dog, that had to be lifted during the final stages of the Brook Trail, thought that the Parker Ridge Trail would be more dog friendly. We thought that if it were more dog friendly, it would be more grandparent friendly too so we went that way. However, first the trail ascended nearly 200 feet onto a bare rock ridge. The early stages of the descent were steep and over large rocks. We saw interesting rocks along the way. Al regretted that he had forgotten all the identification skills taught by Professor Sharp during Geology 1 fifty-six years ago. Once we reached the bottom, we had a mile of up and down hiking to reach the parking lot. We were exhausted by the time we got back to camp. Overall, it took us nearly eight hours, much longer than the expected three hour trip. A good thing that we did bring food.

The next day before leaving, we visited the park's nature center, walked the one-mile Hopping Frog Nature Trail, visited the beach -a sand beach - and walked the Center Hill Nature Trail after eating lunch there.

This site is designated as usable for a camper up to 25-feet long, but the driveway is narrow and there is a tree in the middle of it. We were happy to be using our tent even though it rained hard our first night there.

---

The Brook Trail started off wide and gentle

---

Part way up, we began scrambling over boulders

---

Happy after arriving at Tumbledown Pond

---

Gail ascending Parker Ridge with Tumbledown Pond and
Tumbledown Mountain in the background

---

Parker Ridge Blueberries

---

Starting the descent from Parker Ridge
---
Rockland
Rockland calls itself the Art Center of Maine. The heart of its art scene is the Farnsworth Art Museum. The Farnsworth has a concentration of paintings by Jamie Wyeth, but also many other Maine artists and art featuring Maine. We visited the museum thanks to passes that we checked out of the local Liberty Library.
Also in Rockland, we walked out its mile-long breakwater to the lighthouse at the end. While returning to the shore, we observed schools of poggies leaping from the water to escape seals hunting them.
The Visitor Center for the Maine Islands National Wildlife Refuge is in Rockland. It has a nice short movie about how seabird populations were nearly destroyed by overhunting and habitat loss, and how good people have worked to restore them. There is also a nice exhibit of photos of seabirds and the people working to preserve them.
---

Waiting for the Farnsworth to open at 10 AM

---

A painting by jamie Wyeth of his wife, Phyllis, with a team of horses

---

Gail at the end of the mile-long Rockland Breakwater

---

The Rockland Breakwater Light and keeper's quarters
---
Maine State Aquarium
The Maine State Aquarium in Boothbay, Maine, is connected with the Department of Marine Resources. It is contained in one large room. Display tanks built into one wall showcase Maine's aquatic residents, a large touch tank in the center contains dogfish and sturgeons, and 20 foot-long touch tank along the other wall allows visitors to feel horseshoe crabs, scallops, sea stars, and other creatures. When we visited, it was also visited by many families with children. The parking lot is small and cars were lined up to find a space when we left.
---

At the touch tank

---

The rest of the room
---
Augusta, Maine's Capital
More than 18,000 people live in Augusta. On the western edge of the city are Target, Staples, Lowes, Goodwill, Best Buy, PetsMart, the stores you visit if you don't want to shop at Amazon. Many store fronts are boarded up on Water Street, the downtown area.
We visited Augusta for shopping and followed that by sightseeing. The Maine State Museum is an interesting place and, with a $2 entrance fee, a good bargain. The same building houses the State Archives and the State Library. We also visited the Viles Arboretum and Old Fort Western.
---

The state capital on a gloomy day

---

Penn, Jason, Ally, John, and Maya by William Jacob
at the Viles Arboretum in Augusta

---

White pines in the Viles Arboretum grown
from seeds flown on the Space Shuttle Atlantis in 1991

---

Through The Rectangle by Jordan Smith at the Viles Arboretum

---

The barracks of the 1754 Fort Western at Augusta
Preserved because it was converted to commercial purposes

---

A one-pound gun - pom-pom - in the reconstructed
southwest blockhouse of Fort Western
---
A Summer Potpourri
---

Our home for the summer

---

The 1867 octagonal post office in Liberty, Maine

---

Sunrise on Lake St. George

---

Rowing a gig in Belfast Harbor for the fun of it

---

Our home for the summer

---

The Lincolnville Center General Store,
State highway 3 bisects Lake St. George State Park. It is a major east-west route connecting inland Augusta with its north-south I-95 to coastal Belfast with its north-south US-1. Route 3 ran about 100 feet behind our host camp site. We grew accustomed to the sound of semis, logging trucks, commuters, motorcycle clubs, emergency vehicles, and other traffic passing nearby.

Still, the exuberant conversations of crows in surrounding trees overwhelmed traffic noises, and in the breaks between vehicles we're treated to the lonesome calls and lunatic laughs of the loons.

owned by Jon Fishman, drummer for the
band Phish, and his wife

---

Liberty Graphics supplies the Frank Lloyd Wright
Foundation and Chicago's Field Museum.

---

One of the loons on Lake St. George

---

Canada's Mulholland Point Lighthouse

---

Mistakes

---

The 1855 Franklin Island Light

---

Watching the photographer, but not smiling
"Jeff went to the cow races." What? Do they race cattle here in Maine? No, but there is a Maine accent, and our ears haven't adjusted. It was really a race of automobiles, i.e. cars, not cows.

---

We brought our inflatable two-person kayak, but Al did not realize that he needed to pack a separate bag containing the paddles. The old story about being on the lake without a paddle? We have added "paddles" to our packing checklist.

We did get to explore the lake by borrowing kayaks from thr park.

---

The Winter Harbor Light on Mark Island

---

The barn holds our park's office, workshop,
storage rooms, and the manager's residence

---

A beach on Sears Island

---

Second year Bald Eagle on Sears Island

---

Red Squirrel at Twin Mountain, NH

---

One of the cemeteries alongside Highway 3

Inscriptions are dated to the mid and late 1800s

---

Grindle Point Light, constructed in 1874

---

Renting watercraft, especially the Hydrobike,
was popular at the park

---

Birds
Bird species Al identified at Lake St. George State Park include common loons, American black ducks, American crows, eastern phoebes, blue jays, chipping sparrows, song sparrows, white-breasted nuthatches, common ravens, ruby-throated hummingbirds, chickadees, a great blue heron, and too many Canada geese. One hawk was seen, maybe a northern harrier.

Elsewhere in Maine, we saw the puffins, of course. Other birds were black guillemots, herring gulls, great black-backed gulls, common terns, Bonapartes gulls, double-crested cormorants, bald eagles, osprey, mourning doves, turkeys, American robins, purple finches, yellow warblers, eastern kingbirds, mallards, greater yellowlegs, common eiders, turkey vultures, downy woodpeckers, and a Swainson's thrush.

---

See a Maine moose? Not us! A showshoe hare
was the largest live mammal we saw in Maine

---

CJ in the arms of the baboon statue, Belfast, ME

---

The 1857 Marshall Point Lighthouse at Port Clyde

---

Tumbledown Mountain, on the left,
and Parker Ridge seen from Center HIll

---

A boarded-up fish processing plant in Lubec

---

Reconstructed northeast blockhouse
at Old Fort Western in Augusta

---

Gail pilots the John Deere riding mower

---

The Courtesy Inspector

---

Summer Summary

We took our Moving House to the New England region for the first time. Gail and Al both set foot in Vermont for the first time. We visited two state parks in Vermont, two in New Hampshire, and nine in Maine. All were memorable.

We were away from home for 72 days, towing the Moving House 1,597 miles and driving the truck an additional 2,255 miles for adventures and errands. One of the joys of returning home again is having a dishwasher and a drying rack next to the kitchen sink. Rarely will we have to use a dish towel here. One sadness of returning home is that the adventure is over. Another sadness is leaving behind the new friends you've made. This includes Sunshine, Tom, Janet, Hoyt, Bonnie, Susan, Harriet, Betty, HL, Julie, Hannah, and Alex. <! We left home on June 25 and returned home on Sept 5. >

---

Bearberry on Parker Ridge

---

White Admiral Butterfly at Lake St. George

---

Painted Lady Butterfly on Sears Island
<! This was the first time when we were park hosts that we did not have a sewer hookup at our site. When we did not have sewer hookups in the past at campgrounds where we did not host, we did not stay long enough to need to dump our waste water tanks or we had a pull-through site that was easy to get into and out of. Nether of those conditions applied here. So we used a portable, 35-gallon, dump-tank wagon to transfer waste water from our stationary Moving House to the stationary dump station. Every five days we would empty each of our three tanks, one at a time, and pull the heavy portable tank across the field. >
---
---
Responsible: Albert Holm
Created: 6 Sept 2019; Updated 1 Oct 2019