---
---
We decided to travel to Gail's high school reunion this year in our Moving House. We had not traveled with it during the summer because of our European gallivant. To make the journey an adventure, we traveled from Maryland to southern Wisconsin via the north shore of Lake Superior. Neither of us had ever been there before.

The Trans-Canada Highway - Highway 17 in Ontario - unites the eastern-most provinces with the western-most. However, it seems few people in the east want to visit their western relatives, and few people in the west want to visit their eastern relatives. We saw little traffic and no congestion on the Trans-Canada Highway. The downside of this is that service stations are few and far between. Between the Soo and Wawa there is a stretch of about 90 miles with no service stations. Plan to gas up any time you find a service station. You don't want to run out of fuel in the middle of the Canadian wilderness.

Maybe the traffic was light because we were between seasons - summer was definitely past and it was too early for snowmobile season. The trees were beginning to change color, but the peak had not been reached.
We left home on September 21.
We sped through Pennsylvania, Ohio, and Michigan to reach the Lake Superior Provincial Park in Ontario on the third day of our journeys. After a couple days there, we traveled to Sleeping Giant Provincial Park near the western end of Lake Superior and explored that park. Next, we swung down to Michigan and then to Lake Geneva, Wisconsin. Finally, after the reunion, we hightailed it back to Maryland and the conventional life. We did not relax much on this trip, never remaining in any one place more than three days.
---
Lake Superior Provincial Park
Lake Superior Provincial Park is huge. It occupies about 65 miles of Lake Superior's shore and also extends quite a ways inland. It is very scenic with rocky outcroppings, forests, rushing streams, and little lakes and ponds scattered throughout.
We camped at the Agawa Bay Campground near the southern end. We hiked a short distance along the 40-mile Coastal Trail, on the Trapper's Trail around Rustle Lake, on a short, unofficial trail of mossy rocks, and on the Pinguisibi Trail past four waterfalls on the Sand River. We also drove up to Wawa, at the other side of the park, for groceries.
---

At home among the red pines of Agawa Bay Campground

---

Gail on the Coastal Trail on the Agawa Bay shore

---

Rustle Lake seen from the Trapper's Trail

---

Gail with the Wawa Goose

---

A quiet trail surrounded by moss

---

The second of four waterfalls on the Sand River

---

The view down the third falls on the Sand River

---

The Pinguisibi trail had ups and downs, and lots of roots to trip on
---
Sleeping Giant Provincial Park
Sleeping Giant Provincial Park occupies most of a peninsula in Lake Superior near Thunder Bay, Ontario. This must be the Northern Flicker capital of the world, and we even saw a Pileated Woodpecker, a Bald Eagle, and a roadside Grouse. There were deer, but we did not see any moose. Apparently the moose moved out about three decades ago. We did see lots of mushrooms and other fungus along the Wildlife Habitat Trail.
---

Sea Lion Rock lost its head around 1900, but the name stuck

---

A large toadstool on the Wildlife Habitat Trail. Yes, it was raining.

---

Gail at Sifting Lake

---

Canadian Bald Eagle near Pickerel Lake
---
Iron County, Michigan
After leaving Sleeping Giant, we drove through Minnesota and Wisconsin, and on the second day stopped at Bewabic State Park on Fortune Lake in Iron County. We've been here many times. We relaxed a little, did some shopping, visited with Al's bother Carl, and ate some comfort food. We also got in a little walking for exercise on the Apple blossom Trail. There were tasty apples in the trees along the trail, if you could reach high enough to pick them.
---

Too cold for swimming

---

Well built, but there's never enough funding to maintain what we have

---

---

Enjoying a sweet apple along the Iron River

Comfort food from The Pasty Corner

---

Albert and Carl at their parent's graves
From Michigan, we drove south to Madison, Wisconsin. There had been a thunderstorm the night before and it rained as we hitched up, but as we drove the sky cleared and it warmed up. By the time we reached Madison, the temperature was in the mid 80s. Quite a contrast from what we had experienced! But over the next few days it cooled again and overcast skies and rain returned.
In Madison, we spent the evening with Maija at her new apartment. The next day we got a tire on our 5th-wheel trailer repaired and were off to southern Wisconsin.
---
Walworth County, Wisconsin, and the High School Reunion
We arrived at Lake Geneva on Thursday for the 55th reunion of Badger High School's class of 1963, the first high school reunion Gail has ever attended. An informal get together was not scheduled until Friday evening and the official reunion was Saturday evening at American Legion Post 24.
We were surprised to discover several wildlife sanctuaries near Lake Geneva. Thursday afternoon we walked in the Kishwauketoe Nature Conservancy at Williams Bay. Friday we visited with other friends and Saturday we wandered through the Lake Geneva Museum.
---

One of many Cedar Waxwings at Kishwauketoe

---

The cottage Gail's parents had on Lake Elizabeth
The new elementary school in Genoa City replaced the one that Gail attended. The only things that remain from the old school are the pillars and cornice that surrounded the entrance door, seen in 2012 in the inset. In the new school, the pillars frame a bell with the date 1860 moulded on its side.

---

Memorial for veterans from Spanish-American War
to present day in Veterans Park in Genoa City

---

A 1908 map of Chicago & North Western Railroad in the museum
shows two tracks intersecting at Genoa Junction, modern day Genoa City

---

The Lake Geneva Museum includes an Allis-Chalmers tractor

---

Al's grandfather had an Allis-Chalmers tractor too
Some Members of Badger High School's Second Graduating Class 55 Years Later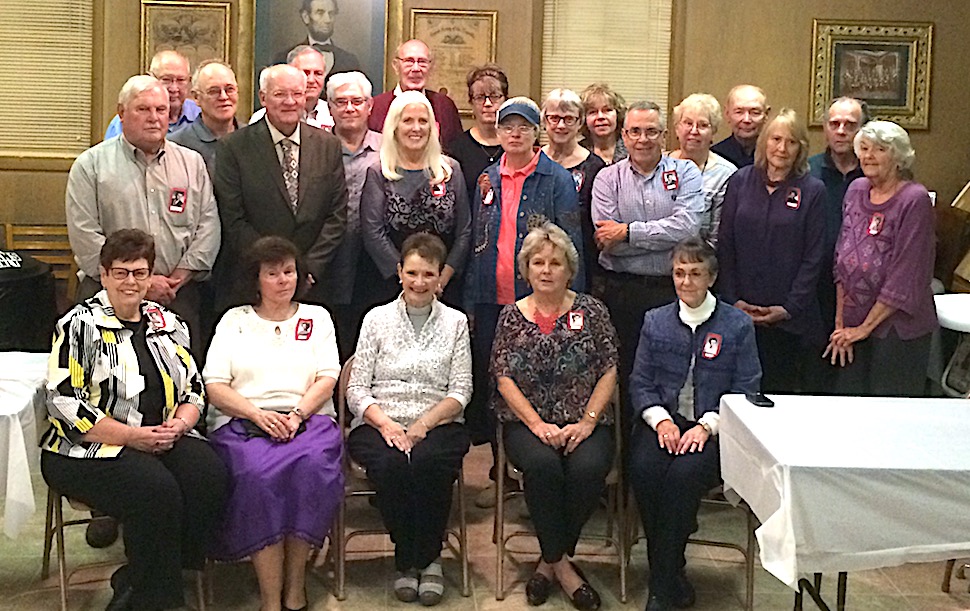 ---
Did we bring gloom everywhere we went? No, we had a sunny morning while traveling from Houghton Lake, Michigan, to St. Ignace. We also had a sunny afternoon during our first day at Lake Superior Provincial Park, a sunny morning while traveling in Wisconsin toward Bewabic State Park, sun during our afternoon in Madison and our first afternoon at Lake Geneva. The little snow flurry the morning we left Sleeping Giant Provincial Park was the only white stuff that we saw. No, we did not bring gloom everywhere.
However, we did see a lot of clouds, and enough rain and drizzle to satisfy us. Because the ground near Lake Geneva was soggy and because more rain was forecast, we decided to end our travels a day early. After three more days on the road, we arrived home on October 9.
---
---
Responsible: Albert Holm
Created: 11 Oct 2018; updated: 1 Dec 2018