Gail and I visited with CJ during April 20 through 23 because she was performing in the NYC Dance Educators Collective. The nights were chilly, but the days were sunny and beautiful so we did a little sightseeing in addition to attending the performances and dining.
We stayed at a private home in the Airbnb program. It was quite comfortable and much less expensive than the Days&nbspInn and Motel&nbsp8 where we had previously stayed in Brooklyn. It was also much more conveniently located than the hotels, being just 1/2 mile from CJ's apartment, less than a block from the Q&nbspline station on Cortelyou Road, and within easy walking distance of the many restaurants on Cortelyou. The Q&nbsptrain took us everywhere we needed to go.
| The house we stayed in | A Q train arriving in the Cortelyou station |
| --- | --- |
| | |
---
Friday evening, CJ and her dance partner, Krista, had a rehearsal. Gail and I went along to the venue and then got a quick dinner at a hole-in-the-wall Chinese restaurant. CJ had performances on Saturday evening and Sunday afternoon. She had to arrive at the venue two hours before the program began so that filled up a lot of our weekend.
Saturday morning, we visited the Brooklyn Botanic Garden, just a few stops away on the train. There were many flowers in bloom, and many people out to enjoy them.
| Entrance to the Botanic Garden | A Pretty Picture |
| --- | --- |
| | |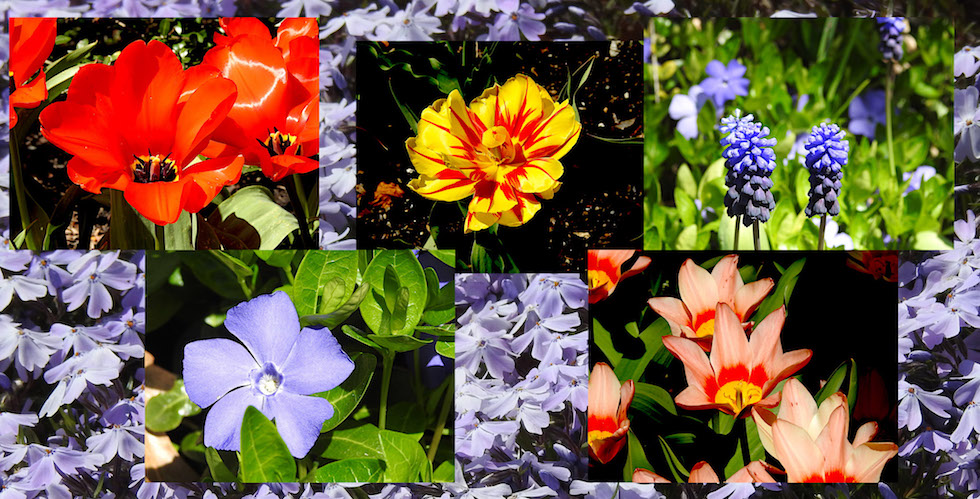 The Botanic Garden includes a Native Plants section, where I enjoyed seeing flowers from my childhood.
| Trout Lily | Dutchman's Breeches | Bloodroot |
| --- | --- | --- |
| | | |
| Even the Botanic Garden has dandelions | Taking a dim view of the visiting crowds |
| --- | --- |
| | |
New York City is a great place for getting your walking exercise. The subway system gets you near where you want to be, and then you can walk the rest of the way. On Saturday, with walking in the Botanic Garden, walking to the restaurants, and walking from the end of the Q&nbspline to the 92nd&nbspStreet&nbspY, where the dance performances were held, we walked 5.8&nbspmiles. On Friday and Sunday, we only did 2.9&nbspmiles each day.
---
On Sunday, while CJ reported to the 92nd&nbspStreet&nbspY two hours before the program started, Gail and I rode the tram from Manhattan to Roosevelt Island. The tram is a working part of the city transportation system, carrying people between their homes and their activities as well as carrying tourists like us. We did not have time to walk from the tram terminal to the Roosevelt Four Freedoms Park on the south end of the island. That's something for a future visit.
| At the Tram Terminal in Manhattan | Meeting the other tram car in mid journey |
| --- | --- |
| | |
---
This fourth annual dance concert was for educators in the New York City public school system. Nearly four dozen dancers and choreographers took part. Photography and videos were not allowed, but it was live streamed on Saturday night. The concert is available on Vimeo. CJ's and Krista's performance begins at 1 hour and 10 mintes, and is about 5 minutes long.

The title of CJ's work is a play on the title of a novella by Carson McCullers.

CJ and Krista after Sunday's performance
---
Responsible: Albert Holm
Prepared 24 April 2018; updated 11 February 2022