---
Murray Baker was my uncle and my step-father. He was married first to Greta Holm, my dad's sister. Several years after my dad and Greta died unexpectedly within months of each other in 1975, Murray and my mother married.
Murray passed away on May 12, 2011 after a long illness. He spent his final years at the Jacobetti Home for Veterans in Marquette. Before the end, his vision had deteriorated so he could not read and his hearing had deteriorated so listening to movies or TV was not satisfying.
Gail and I flew to Green Bay via Chicago. CJ flew from New York and joined us in Chicago. From Green Bay, we drove a rental car to Iron River. In Iron River, we looked at the remains of the bowling alley, which had burned down that morning. We also drove out to Pentoga Park and visited the Native American burial site there.
---

The smoldering remains of the bowling alley

---

The Ojibwa people constructed little huts over their loved ones graves
Our first family gathering was at the Riverside Pizzaria. This is what people who have moved away always come back to.
---

Our extended family: Gail, Sherry, Jim, Terri, Denise,
Marquette, and Cathy. Just a corner of Ted's shirt is seen.

---

Later Carl joined us between Jim and Terri,
and Nancy can be seen behind Sherry.

---

The younger generation at Riverside: Wes, Jeff, CJ, Chris, and Michelle
The morning of the ceremony, Ruth Ann, Chris, April, and Melissa came down from Marquette. Of the clan, only Patti - who had just had a baby - and Doug were unable to join us.
---

St. Cecilia Catholic Church in Caspian where the funeral mass was held

---

Monument at the Baker plot in Stambaugh cemetery
Click on this photo to see a 7-minute video of the graveside ceremony. Use your back arrow to return to the rest of this page.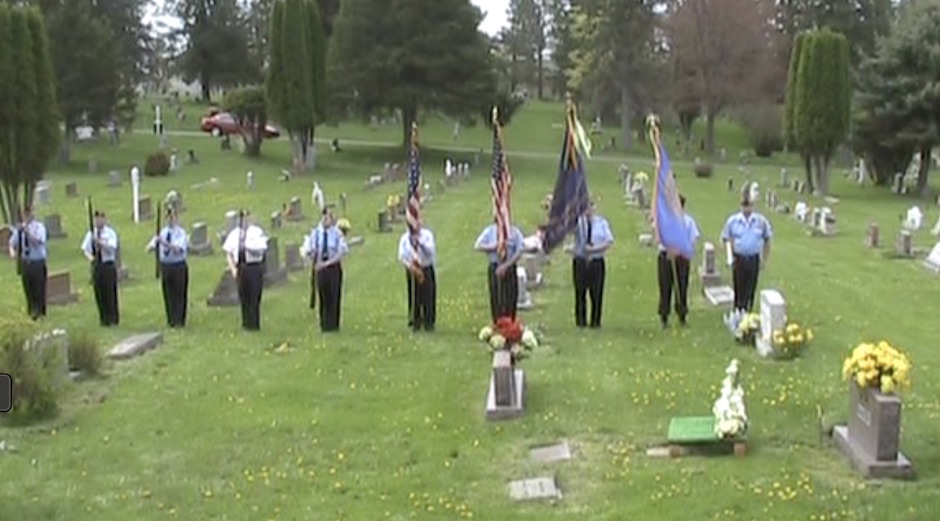 ---
After the ceremony we attended a reception and lunch at the American Legion in Stambaugh. Later we continued our gathering at a cottage on Chicagoan Lake owned by Michelle's grandmother.
On Sunday we drove back to Green Bay and put CJ on her plane. Later Pete and Sherry took us to the Oneida casino where an older, and mostly reconstituted, Herman's Hermits were performing in the lounge. We flew home on Monday.
Here are some scenes from Murray's life.
---

One year old in 1915

---

"Awaiting the Call" in 1917

---

On a Harley at Fort Benning in 1942

---

On his Harley

---

In uniform - 1944

---

With Greta at Victor's farm - 1945

---

In Stambaugh with Greta - 1957

---

At home with his family in 1960

---

Christmas Eve family dinner at Victor's

---

---

---

Out west with Greta
His DuPont truck in Stambaugh

With Aurora Hovey after moving to Ashland - 1969

---

---

---

Raising the flag
Murray and Helen wedding

Uncle Pa and Auntie Ma

---

Color guard in Iron Mountain

---

At Cathy's wedding with Pete and Curt

---

With the snowmobile club
Family gathering after Helen's funeral, August 1997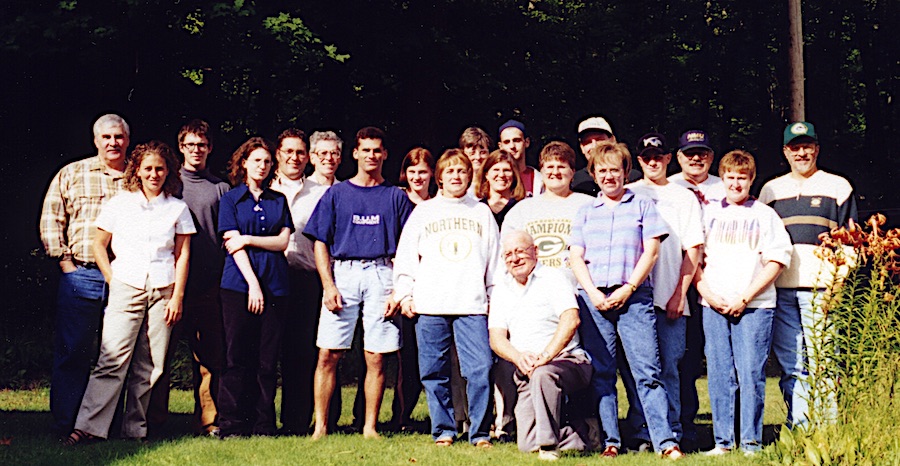 ---

With Cathy

---

Parade Marshal

---

With Pete and grandson Jeff

---

At the graduation of granddaughter Michelle

---

With Sherry and Pete in Jacobetti's

---

With Terri, Wayne, Gail, and Al - 2008
---
---
Responsible: Albert Holm
Created: 15 April 2019